The Fabulous Reverb Raccoon Christmas Compilation!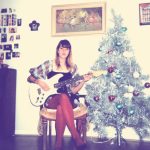 Christmas songs arrive in three boxes, each cardboard container uniquely wrapped and shoved under the Christmas tree where the winking lights cast a festive glow on the shiny paper.
The first box, wrapped in purple and gold, contains songs that celebrate the birth of Jesus. Next is the box wrapped in green with a red bow. It holds the songs that celebrate the Christmas season while politely bypassing any mention of the Messiah. And finally, far back under the tree, we find a box wrapped in somber shades of blue or possibly pink. Tearing away the paper that has obviously been used for at least two prior Christmases and a going away party, we find songs by independent musicians.
Musicians by nature are a solitary and moody lot. You don't get good at an instrument without locking yourself away in a bedroom for several years and practicing. Unfortunately, most indie musicians have been unable to convert musical mastery to money. The estate of the common indie musician consists of an instrument, an amplifier, and $100,000 worth of pedals.
The combination of loneliness and poverty results in Christmas songs that skew towards the morose end of the scale. But that's okay! You've been working on a new EP, one of your tracks was featured on a podcast, and next year it's going to all come together! So let's reach down into the toe of our stocking and see what cool songs Indie Santa left for us. And as we celebrate Christmas, let's remember the musicians who enriched our lives. Most of these songs are on Bandcamp. If you hear a song that you like, click on the link in the Bandcamp player. You'll be taken to the page were you can (hint, hint) buy the song.
John Dredge and The Plinths – Christmas Time Is Here
The first song pulled from the stocking is 'Christmas Time Is Here' by London's own John Dredge and The Plinths. It's a reserved reminder of everything that is good about Christmas: snow, fire in the grate, candles, silent nights, and the man who's never late.
Bradford Trojan – Sweet Gingerbread Man
Also on the list of Things That Are Good About Christmas: food. It doesn't matter how much or how little you have; Christmas food is somehow special. Among my special Christmas dinners: the one in the Denny's down the street from Graceland. I don't remember what I had, but I remember that the coffee was good. Bradford Trojan remembers the 'Sweet Gingerbread Man…'
Amos Pitsch – It's X-MAS (Today)
Everyone associates Christmas with snow and cold, even southerners – like me – for whom snow and cold are more concepts than actual facts. For people like Amos Pitsch of Appleton, Wisconsin, an annual return to the Ice Age is the rent one pays for enjoying beautiful summers. Amos is the drummer for Dusk and a member of the Crutch of Memory musical collective. 'It's X-MAS (Today)' appears on his debut solo album, Lake Effect. Amos describes the LP 'as a sort of conceptual seasonal album… that deals with the feelings and the psyche of the victims of Midwestern American winter.'
Bedbound By Summer – Depressed This Christmas and Down (Again) in June
Kane Storr and Liam James Marsh, aka Bedbound By Summer, capture the True Spirit of Indie Christmas with 'Depressed This Christmas.' I hate love, I hate you, I hate me. Six months later the emotional barometer is still in the gray: they're 'Down (Again) in June.'
Skip Roxy – Locked Up On Christmas and Little Drummer Boy
Skip Roxy has a good reason to be depressed: he's 'Locked Up On Christmas,' put away in the Portland pokey for the minor of crime of stealing his baby a diamond ring. And designer shoes. Whatever happened to selling your watch fob? But Skip is making good use of his time. He and his fellow inmates are presenting a Christmas Pageant with the theme Give What You Have, Not What You Can Steal. An indie musician, brought before the baby Jesus, could emulate the 'Little Drummer Boy' and offer the gift of music. Or maybe hand over that old chorus pedal that you don't use anymore.
theCatherines – Let It Snow and I Saw Mommy Kissing Santa Claus
Also looking forward to seeing Santa: theCatherines, our friends from Hamburg, Germany. But this Santa is more of a backdoor man than a chimney guy. Hey, mom, your present's in the living room. Milk and cookies, anyone? You tramped snow all over the carpet, you fat @#$%! How 'bout some snow cream? The Caths hold the record for appearances in these virtual pages with ten songs of the day! Something about their wry approach to mid-sixties pop puts a pocketful of pecans in my musical stocking.
The Fisherman and His Soul – A Christmas Tree Bright As A Lighthouse
Sebastian Voss, of Münster, Germany forms one-half of Nah… the other half being Estella Rosa of Amsterdam. When he makes music on his own, Sebastian becomes The Fisherman and His Soul. Between Nah… and his solo project, Sebastian has tallied four songs of the day! He's looking forward to the holidays, when he can finally finish the new Nah… album. I'm looking forward to finding it under my Christmas tree sometime in the New Year. There's no rush; I'll probably leave the tree up 'til March.
Graduation Speech – This Is a Gift
Graduation Speech is the solo project of Kevin Day, singer-guitarist with Aspiga. Kevin has placed the perfect gift under his Christmas tree: a shared life, a shared love. Take a few minutes to watch the snow and remind each other that it's going to be OK. 'This Is a Gift' that we can use all year.
David Woodard – Waiting for Christmas
For kids, Christmas is about delayed gratification. You have to wait to open your presents. You have to wait for Christmas dinner. You know it's time to eat when your mom upends the can of cranberry sauce over the plate and you hear the shlurp of jellied cranberries sliding from the metal cylinder. The young David Woodard was into some serious waiting. He was 'Waiting for Christmas' all year!
Loud Letters – Like Christmas
Going home for Christmas is a tradition started by Joseph, who had to journey home to Bethlehem to register for a census. But when Joseph walked into town, he thought to himself Man, this place has changed. I wonder if our old house is still there? You can go home for Christmas, pull out your old toys, sleep in your old bed, decorate the tree with the ornaments that were once at your eye level when hung on the lowest branches. But, as Loud Letters learns, it will never feel the same as it did when you were a kid.
Julie Jurgens – The Ex-Mas Song
The problem with going home for Xmas is that you'll probably run into your ex. What can you say? Merry Christmas? Julie Jurgens has the problem, hates the season because of it, but says I guess that's alright with me. Might as well be. Maybe Santa will leave your ex a lump of coal with your name on it.
Liz + the Baguettes – Carol for a Cold Season and And to All a Good Night
For many normal people, people who are living small paycheck to small paycheck, Christmas is a reminder of how much they've struggled in the preceding months. And it doesn't help to be freezing your ass off in Chicago. 'Carol for a Cold Season' by Liz + the Baguettes is a bleak view from a frost-edged bus window, a contemplation of the Other Side of Christmas. Listen for Arthur, the cat sitting on crackly paper in the middle of an otherwise perfect vocal take.
And lest we leave our readers with the impression that Liz is a real downer, man, we'll place a silly song on the other end of the balance beam. I'll let Liz provide the context…

A few years ago the band took part in a live game show in which the goal is to smuggle five truths into an otherwise false speech about a given topic. Mine had to do with holiday songs, so I went ahead and created this piece of gibberish in support of an anecdote about a songwriter who was mid-eggnog bender when he realized he still owed the studio a song by the end of the night. I layered 14 separate vocal takes to create the chorus, used a Yamaha keyboard for the strings and chimes, and got my husband to voice the singer. Naturally the result has more YouTube plays than almost any serious song the Baguettes have ever put out.
Steven Lipsticks and His Magic Band – Silly Christmas and 25 (Handmade Lullaby)
Also enjoying a bi-polar Christmas: Steven Lipsticks and His Magic Band, known to his friends as Stefano Rossetti of Bologna, Italy. Stefano needs to stop sleeping in his ex-lover's bed (creepy much?) and go out and meet some friends. Then, when the gang's all here, they can enjoy a 'Silly Christmas.' Steven Lipsticks has been a popular player in these pages, scoring four songs of the day plus a full-length feature back in 2015!
The Beatersband – Black Christmas
And while we're in Italy, let's mosey over to Rosignano Solvay and see what The Beatersband is up to. Did we catch you at a bad time? Looks like they got into the eggnog a bit early. They seem to share some Christmas traditions with my Tennessee cousins who live in the trailer park. Have fun, folks! Keep on rockin'.
Backyard Star – It Never Snows in LA and The Spirit of Christmas
Christmas in California just hits different. The Christmas turkey is constructed from tofu and Santa enters through the skylight instead of the chimney. Santa's sleigh slides poorly on the tile roofs because 'It Never Snows in LA.' But Backyard Star reminds us that the entire Winter Wonderland shtick is just a creation of Walt Disney, a subtle subterfuge meant to lure you into a theater on Christmas evening. What really counts is 'The Spirit of Christmas.'
Sofa City Sweetheart – Christmas Times and Auld Lang Syne
Also enjoying Christmas in California: Sofa City Sweetheart, the solo project of Juan Antonio Lopez. Sofa City is unstuck in time, which somehow seems appropriate for a musician living just outside LA. Juan wants someone to come on home to West Covina. But there's no need to rush back on the red-eye, trying to reach the old homestead before the presents are opened. Because it's Christmas year-round in Sofa City's heart, where there's Christmas times in every month. And since the year has no beginning or end, we can play Juan's stunning version of 'Auld Lang Syne' wherever the mood strikes us.
Cassie Ramone – Wonderful Christmastime
It wouldn't be Christmas without several musicians trotting our execrable covers of 'Wonderful Christmastime,' the hoary old chestnut by Paul McCartney. Cassie Ramone's version is not too bad; it captures the true spirit of Indie Music Christmas. The track appears on her album, Christmas In Reno, described as 'her take on the classic Christmas album, through the lens of someone at once in love with its concept, and disillusioned with its reality.' That's the album cover up there at the top of the post.
Crowded Shoulders – Happy Xmas (War Is Over)
We can't present Brother Paul's Christmas hymn without a proper counterweight. John Lennon's take on Christmas, while not covered as frequently as Paul's, is more memorable and more significant. Crowded Shoulders presents a beautiful rendition, simultaneously stark and lush.
Matty G and Li'l Winter – Tories Out for Christmas
Most Americans have only a minimal understanding of British politics, and I'm no exception. I believe they recently held an election in which there was widespread interest in voting out the Conservative government. And, as I understand it, the effort failed spectacularly. So it goes. Matty G an Li'l Winter recorded this quiet little ditty in the run-up to the vote. Better luck next year, folks. You people have an election every year, right?
Sarah Lee and Team Tree – Oh Come All Ye Faithful
And finally, for those who are still with me, a song that I stumbled upon while searching for something else: Sarah Lee's moving presentation of the classic 'Oh Come All Ye Faithful.' 

And so we bring the season to a close. I think we had a good run this year. We made a few friends and discovered lots and lots of great songs. A big thank you to all of the musicians that I wrote about. You have given the world a gift, and I was fortunate enough to trip over it. Merry Christmas, everyone!