Distant Creatures – Not Even Love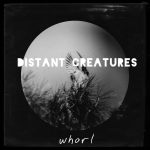 She wants a laugh. She doesn't laugh enough. Insufficient laughter, that's grounds for divorce. And skiing – she wants to go skiing. She wants to ski down the mountain laughing like an idiot. — Woody Allen in Play It Again, Sam
When gaps appear between the logs of your little love cabin, letting through the freezing winds that leave your heart numb with frostbite, you can paper over the cracks with double-sided sheets of Fun and Adventure, the ancient palliative of applying Activity to provide the illusion of emotional progress.
But there's only so many times you can hurtle headlong down a moguled mountain before your knees give out or the lift ticket expires. Try to squeeze in one last run and you may find yourself rocketing through the gloaming, icy hands gripping useless poles, totally in control as you fly off the edge of the trail and into the infinite abyss shouting, 'I'm free! I'm free!'
'Not Even Love' by Distant Creatures describes a love that has left someone as numb as a tongue tip on a frozen flagpole. Dial in the debauchery and hope your graffitied names on the corroded bridge girder last longer than the verdigris-tinged initials engraved on the ring at the bottom of the keepsake drawer.
We'll scour the streets for fun
And in the pouring weather
We wrote our names on an overpass
I hope it lasts forever
'Not Even Love' is soulfully dreamy pop, slightly singed around the edges with touches of country, just enough scarring to burnish the shine into shared nostalgia. The twin stars are the wonderfully expressive instruments of the vocal and the slide guitar, each following its own path to create competing melodies.
Based in northern Virginia near Washington DC, Distant Creatures comprises Mina Karimi (lead vocals), Dane DiPierro (guitars), Christopher Mathews (guitars, string arrangements, keyboards), Ben Silvernail (drums), Carlos Bandamonte (bass 2019), and Micheal Lewis (bass 2015-2019). 'Not Even Love' appears on their ten-song album, Whorl, released last month. I'm told that the band has, unfortunately, gone belly-up. So it goes. We'll always have Paris. But there is still one limited edition hand-cut twelve-inch vinyl Whorl LP left! Order now to guarantee delivery before Christmas! 
Whorl is available from Bandcamp on the Library Group Records page; previous albums can be found on the Distant Creatures page. The music of Distant Creatures is also available on Spotify and Apple Music. Wave a last good-bye to Distant Creatures on their website, and be sure to follow Distant Creatures on Twitter, Instagram, and Facebook.