A Sampler of Songs for a Sweeter Tuesday Morning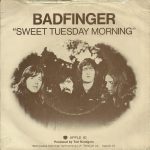 Tuesday has no feel. – Newman
Tuesday is the most nothing day of the week. The only purpose of Tuesday is to remind you of everything that you failed to accomplish yesterday. So, to sweeten the oncoming dreariness, we provide a sampler of songs that will make your Tuesday more interesting…
The one thing Tuesday has going for it is its tunefulness. Tuesday has that ooooo sound – moon spoon June – that lyricists love. The Ooooooh of Tues followed by the  aaaaaah of day is always a winning combination. You just can't pull that off with the downtrodden Thursday. So we'll start our sampler with my favorite Tuesday song, 'Sweet Tuesday Morning' by Badfinger.
And now for some songs you may not have heard…
Him Horrison is on tour this month, bringing his southern blues dream pop to the North Country. We had the pleasure of seeing a Him Horrison show earlier this year: a seven piece band – three guitars, bass, drums, percussion, synthesizer – crammed into a small Chicago basement. Click here for tour dates. 'Frozen Roses' from their new EP, Portal, is a good example of Him Horrison's unique flavor of Koolade.
Also on tour this Fall: Dusk, our favorite band from Appleton, Wisconsin. Dusk plays real American music, an amalgam of rock, pop, punk, and country. 'Leaf,' from their self-named 2018 album, features Julia Blair backed by Ryley Crowe's soulful steel.
Free Dirt, another heartland band, recently released their debut album, Pink Floyd on Ice. Produced by Dusk's Ryley Crowe, the album comprises thirteen tracks that refuse to be thrust into a single pigeonhole. 'D.I.E!' is a great example. Just when you think it's country, suddenly it's not.
I'm a sucker for a good harmony. Here's a simple song, 'Woah Yeah So' by Ceebie, that I stumbled across yesterday. Shades of Imogene Heap's 'Hide and Seek' but without the autotune. I don't know much about Ceebie, but I look forward to hearing more from them.
Five years ago I deleted every Ryan Adams track from from my song library. No need to revisit the cause of the cancellation, but I'm proud to say that I was ahead of the social curve. Now I'm back in the Ryan Adams game, sort of. Earlier this year Julie Jurgens released Love Taker, a cover of Adams' entire Heartbreaker album. Julie's words can relate the motivation more eloquently than mine. Picking the best track was a tough call – they're all good – but we'll go with the emotionally powerful 'Come Pick Me Up.'
So there we are! Six songs that – it is to be hoped – will make your Tuesday a Better Day. If you like what you hear, support the artists by downloading their tracks, buying their merch, and turning up for their shows. Y'all have a good rest of the day!