Small Places – Send for Your Love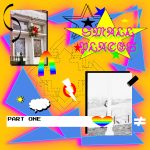 Larry: Listen, She's going to Chicago…
Arthur: Oh, that's tough, kid. You know, if they cross two or more time zones, that's a rule of thumb, probably gone for good.
— The Larry Sanders Show, The Talk Show Episode
The attraction (A) between two bodies in a long distance relationship can be expressed as $$/de, where d = separation distance, e = the sum of all expectations, and $$ = the amount of money that can be expended in an attempt to maintain the status quo, a value that includes airline tickets, gifts purchased at the airport, and the cost of therapy and anti-depressants not covered by insurance.
It's possible to sustain a relationship across a single time zone, given sufficient funds and low expectations. Beyond that, the attraction is less to the other person and more to the concept of love, the idea that there is at least one person out there – somewhere, maybe on the other side of the world, maybe someone who doesn't speak your language, maybe someone whose only connection to you is that one time you read her profile on a Philippines dating website – who doesn't think you're a complete jerk.
'Send for Your Love,' by Small Places, seems to describe a relationship in the first blush of separation by distance. One party still clings to some stuff that the other person left behind, a few tokens of warm days and sunshine, the sentimental ephemera that will probably end up being donated to Goodwill. Who knows, maybe your ex – reduced now to shopping only in thrift stores – will come across it somewhere down the line and will think about you for a millisecond.
got this feeling i'm alone
i'm still holding on to what you left in my home
and all the things i need to show you when we're whole
we're never whole, we're never whole
'Send for Your Love' is a sparse rocker, easy on the ears, its power existing in its economy. The song begins innocently enough, with one string and one voice; the full band climbs onstage for the chorus. The highlights of the track are the extended lead guitar breaks, wahed notes pinging across space and time. Listen for the melody behind the solos. These are not just the random meanderings of someone playing with a pedal.
Small Places is Adrian Politzer with the help of several friends. 'Send for Your Love' appears on his new seven-song album, Part One. Adrian describes Part One (and the yet-to-be-released Part Two) as 'about love, death, fear, time, space, dragging moments of confusion, waves of equanimity – and letting go. These fifteen songs trace the previous four years of my life as I moved to a new city; dealt with anxiety, depression, and spiritual development; experienced love lost, love made, the nurturing of trust, and familial growing pains.' The album was 'recorded in bedrooms, basements, apartments, closets – and partly at Honeyjam records in Chicago.'
The music of Small Places in available on Bandcamp, Spotfy, and Apple Music. Visit the Small Places website, and follow Small Places on Instagram, Twitter, and Facebook.