Upon Further Review: NFL Vacates Packers 1967 Championship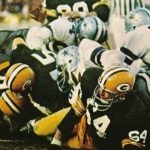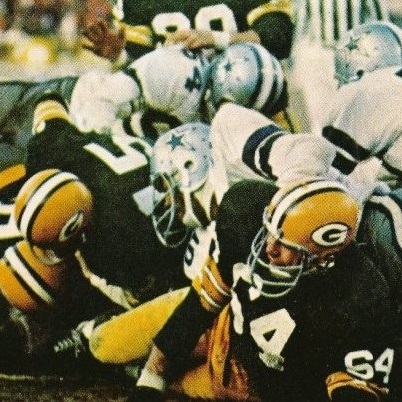 The National Football League announced yesterday that they have invalidated the results of the 1967 NFL Championship game, known as the Ice Bowl, ruling that Green Bay guard Jerry Kramer moved early on the Packers game-winning touchdown.
'Upon further review,' NFL Senior Vice President of Officiating Alberto Riveron intoned from an empty sideline on Lambeau Field, 'the ruling on the field is reversed. False start, number 64 on the offense, five yard penalty, replay third down.' Following the announcement, Riveron drove to the Boise, Idaho nursing home where Kramer is confined to a wheelchair, and threw a yellow flag at the former player's feet. His wheelchair was then rolled five yards further back from the television.
Since it was deemed impractical to replay the down at this date, the Dallas Cowboys, who were leading 17-14 before final the Green Bay touchdown, were declared the NFL champions. The ruling threw the sports betting world into chaos, with the children of bookies contacting the children of gamblers who had bet on the Packers and threatening to break the heirs' legs 'if they don't pay up.'
Kramer's crucial block on Dallas defensive end Jethro Pugh, allowing Green Bay quarterback Bart Starr to plunge into the end zone, has long been disputed. Kramer himself admitted to moving early, but blamed center Ken Bowman for a late snap. 'We have reviewed the play thousands of times over the last 52 years,' NFL Commissioner Roger Goodell explained at a press conference. 'And while we regret the delay in the final ruling, we owe it to the players and the fans to get it right.'
In a follow-on ruling, Goodell declared that Super Bowl II, between the alleged NFL champion Packers and the AFL champion Oakland Raiders, was never actually played. 'All Super Bowls subsequent to Super Bowl I have been renumbered,' Goodell explained. Super Bowl LIV, expected to be played in February 2020, will now be delayed until 2021. The fiftieth anniversary of the Super Bowl, previously celebrated in 2016, was actually celebrated in 2017 when the New England Patriots overcame a twenty-five point deficit to defeat the Atlanta Falcons.
In other NFL news, sources say that the league may invalidate the results of every NFL season since 2000, when Bill Belichick became head coach of the New England Patriots, on the grounds that Bill Belichick is the Devil.