Sam and the Savages – Feel the Need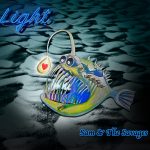 Eli: I'm not in love with you any more.
Margot: I didn't think you ever were.
Eli: Let's not make this harder than it already is.
Margot: OK.
Eli: OK what?
Margot: OK, I'm not in love with you any more either.
— from The Royal Tenenbaums
What is that feeling when you're driving away from people and they recede on the plain 'til you see their specks dispersing? — Jack Kerouac, On the Road
He pulled onto the cherty shoulder and stared into the rear-view mirror, not bothering to cut the engine. The car traveling away from him became smaller, smaller still. He glanced to his right at the passenger-side mirror, the one etched Warning: objects may be closer than they appear, and fooled himself into believing that the car had turned around. When he could no longer distinguish the car from a smudge on his rear windshield, he eased back onto the highway. — N.O. Sanders, Alluvium
With 'Feel the Need,' Sam and the Savages present that Relationship that refuses to recede into nothingness, fails to pass beyond the horizon. It remains Undead, neither living nor consigned to the Hall of Mirrors where you see it only when you look at yourself. It is the connection in which the Last Word remains unspoken, filed away somewhere in your subconscious, to be immediately forgotten when given the opportunity for recital.
You said that I don't know who you are, it's true
I feel like I'm drifting far away from you…
And I know that you might have some more to say
'Feel the Need' bursts forth fully-formed in twelve-stringed glory, then pulls back into quiet reflection. The song's power is in its dynamic range, charting the breadth of emotions that one experiences when one knows that a shared life is fading but that nothing can be done to prevent the breakup.
At just over two minutes the track is brief but effective, saying everything that can be said but should have been said sooner. Listen for the old-school overdriven guitar solo that revs up mid-track and carries 'Feel the Need' into a higher state of musical consciousness for sixteen bars before easing back to earth for a gentle coda.
Sam and the Savages comprises Sam Chue (guitar, vocals), Caleb Savage (bass), and Eli Savage (drums). 'Feel the Need' is from their six-song EP, Light. The band self-describes as 'an alternative rock band born and raised in Bellingham WA.' Their stated goal is 'to sonically blast you and musically nurture you all at once.' Light is their first legitimate release. 'We have played together for a long time,' they told me. 'We just wanted to get some of our music out there and move on to recording a full length album while finally getting some of our music heard.'
Sam and the Savages' music is available on Bandcamp, Spotify, and Apple Music. Visit the band's website, and be sure to follow Sam and the Savages on Instagram, and Facebook.