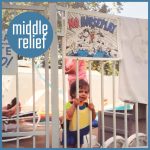 The world continues, and it continues because it is a repetition… If one does not have the category of recollection or of repetition, all life dissolves into an empty, meaningless noise. — Søren Kierkegaard
Kierkegaard contended that repetition – running the same routine each day and beyond – not only was good, but was necessary to hold our world together and prevent its spinning off into unregulated chaos. Kierkegaard walked daily around Copenhagen, his repeated journey an opportunity to experience new faces before returning to his old base.
In 'The OC,' Middle Relief returns to their original point of existential departure, a hitching post on which our man is bound to the tether again. Or perhaps he never left the building and now sports a self-inflicted scar that someone promised him would have long since disappeared. The scar is always there, like the chimera in the cable knit sweater that you see on the street every day, the one who wears the sweater well into the humid months, not because she's cold but because the sweater recalls past pleasantness.
False premise that all
blemishes fade,
turning away.
'The OC' bumps to life with a hop-scotching bass line before being joined by a pair of wandering guitars. The track rocks, but with an unpredictable jazziness, the edges softened by touches of pop and an old-school guitar solo, fat tones hot with overdrive.
Middle Relief comprises Andrew Raimondi (vocals), Kevin McCarthy (guitar, backing vocals), Scott Brookes (guitar), Gerry Peyton (drums), and Kyle McCarthy (bass). The band self-describes as 'a bunch of dudes in a suburban New Jersey basement.' Today's track is from their soon-to-be-released self-named album. 'It was recorded last summer/fall in the McCarthy's basement and mixed by Kevin,' the band told me. "The OC' was one of the first songs written for the album, back in November 2017, during Andrew's first semester of law school.'
Last year we featured 'Pistachio' from Middle Relief's debut album, Gap Year. 'Pistachio' is a straight ahead rocker, all guitars and adrenaline. In our feature we especially admired the guitar solo, of which we said, 'The structure and melody within the solo reminded me of Steve Hunter and Dick Wagner on Lou Reed's Rock 'n' Roll Animal. What? A guy in a basement can't play like a pro? Who made that rule? Hey, it's a good solo. Sue me.'
Lyrically and vocally, 'The OC' is a step forward from 'Pistachio.' There's an element of complexity in the songwriting that we don't find in the basic basement band. Middle Relief may someday be able to crawl forth from the primordial subterranean slime and become real people who make music in the sunlight.
You can support deserving basement dwellers like Middle Relief by visiting their Bandcamp page and downloading 'The OC.' And be sure to follow Middle Relief on Facebook, Twitter, and Spotify.