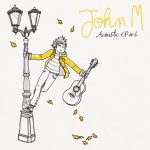 In a certain sense the phrase 'I am still alive' can never be sent as it cannot be received by the addressee instantaneously. It is only valid at the very instant that it is being written, and in the very next second it is no longer a certainty… It is a sentence of self-reassurance: the activity of telling oneself and the world 'I am still alive.' — On Kawara
Each day for eleven years, On Kawara mailed two picture postcards inscribed with the words I GOT UP and the time of his rising. Some recipients were allotted hundred of missives, others a single notification. During the same period, On Kawara dispatched almost nine hundred telegrams bearing the message I am still alive. The need for separate statements suggests that awakening each day, the minimum standard for existence, does not imply the existence of life.
In 'Alive,' John M struggles with being awake but not woke. Life arrives, not with consciousness, but with shared consciousness.
I woke up and I could not tell
if the place was heaven or if it was hell
I got up surrounded by the light
then she held my hand says 'don't give up the fight'
'Alive' is a starkly beautiful slice of folk and pop. Presented with minimal instrumentation save a voice and guitar, the track silently requests that one cease whatever background activity is progressively impeding your existence – scrolling through your social media feed, pounding out that last incredibly unimportant email –  and listen.
After a childhood divided between France, England, and the US, John M is currently based in Paris. From John M's bio on his website, we learn that 'he passes easily from an electro rock title to a folk walk, from a piece of blues to a playful pop. In John M's case, there is in fact a deep desire to make light triumph over darkness, hope over disappointment.'
'Alive' is from John M's new four-song EP, Acoustic EP #1. The collection comprises stripped-down versions of tracks previously recorded with a full band. 'Alive' first appeared on the 2015 album, Love It All. The original is excellent and deserves to be included here. I prefer the immediacy of the acoustic setting, but your mileage may vary. A great song is a great song regardless of the arrangement.
You can support John M by downloading his songs from Bandcamp or iTunes. Be sure to visit his website. And follow John M on Spotify, Soundcloud, Facebook, Instagram, Twitter, and YouTube.