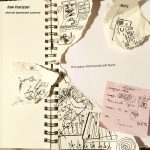 If you're three weeks into a relationship and haven't been ghosted, you're probably good for at least another month. Three weeks is long enough for your current interest to make a thorough background check on you, including the requisite stalking on social media and checking-out of your exes. Your choices, from the car you drive to the coffee you ordered for that first meeting at Starbucks, have been analyzed, second-guessed, and discussed with friends. These inquiries may not reveal everything that makes you tick, but it should be enough to let someone know that you aren't a complete psycho.
In Low Horizon's 'All I Want,' our man isn't worried that someone will learn that he's a serial killer (which we all hope that he isn't). He's worried about his potential partner being bored.
three weeks since i've known your address
and you haven't said you're bored yet
maybe it's happening, we're falling in love
The existential leap from Lack of Boredom to Falling in Love is rather large, but I suppose one has to begin the journey somewhere. And, really, there are worse points of departure. The last time (and it turned out to be The Last Time) I went through the cycle, being able to enjoy a person's presence while doing absolutely nothing was near the top of the list.
'All I Want' floats in that folky dream-poppy lo-fi cloud for which I have a weakness. Guitars buzz behind harmonies in a rough-around-the-edges arrangement that sounds better every time I listen to it. There is an honesty and sincerity at play that should appeal to anyone who isn't a sociopath.
Based in Houston TX, Low Horizon comprises John Gottlieb (guitar, vocals, synth), Brandon T. Cane (guitar, synth), David Dao (bass), and Jasmine Fuller (drums, vocals). 'All I Want' is from their new thirteen-track album, Eternal Depressed Summer. 'I wrote these songs as I descended toward what will hopefully be the nadir of my life,' John tells us on Bandcamp. We hope that John is now enjoying sunny days in that three-week span of pleasant weather that Houstonians experience before the humidity and mosquitoes suck the life out of us.
We previously featured 'Keep,' also from from Eternal Depressed Summer. It's a great song, worth another listen, and features the lyrical excellence that marks John Gottlieb as a songwriter of future note.
i will always be in love with
someone who
doesn't want to be with me
i will always love you
even if you never dream about me
You can support deserving independent musicians like Low Horizon by visiting their Bandcamp page or Apple Music and downloading Eternal Depressed Summer. Be sure to visit Low Horizon's website, and follow the band on Facebook, Instagram, Twitter, YouTube, Spotify, and Soundcloud.