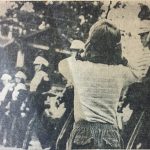 And you may find yourself in a beautiful house
With a beautiful wife
And you may ask yourself
Well, how did I get here?
— Talking Heads, Once in a Lifetime
My father's father, a lineman for the county who bought the farm years before I was recorded and remixed, once attended the Grand Ol' Opry. As the final note faded into the Ryman Auditorium's unairconditioned ether, he turned to my Mamaw and said, 'Is that it?'  The situation was little better on my mother's side. Granddad claimed to have been a gospel singer in his youth, but there was no trace of it left in his rough voice that seemed better suited for cursing at a team of mules.
The next generation was somewhat farther advanced on the evolutionary musical scale. Dad worked briefly for a regional music trade publication in north Alabama, interviewed Little Richard by phone, and could plunk out the first line of 'White Christmas' on a piano using only his left forefinger. Mom had seen the Tex Beneke Orchestra perform in the same ancient college gymnasium at which I later saw Linda Ronstadt, and considered the Goodyear Christmas albums to be the height of recording accomplishment.
Thus, given my lineage, one wonders how I became recognized as the Arbiter of Good Taste regarding popular music, and the writer of a blog that is often read by at least two people if we include the cat. But Rome wasn't built in a day, I'm told, and I hope to add a third regular reader by year end 2020. So without further self-flagellation, for the pleasure of my wife and cat, we present a big dollop of Good Music to lather on your Thursday toast.
PorterHaus Music – Hallelujah
PorterHaus Music comprises a trio of brothers from South Lake Tahoe, California. Their music is a melange of pop, rock, reggae – everything that makes music fun and great. 'Hallelujah' brings it all together in a track that will make you smile even as the cat pukes on the couch. Listen for the drums.
Penny Eyes – Bad When It's Good
'Penny Eyes aim to deliver all the infatuating riffs, big choruses, punchy guitar tones and alluring bass lines that were iconic to their 90's British pop rock idols…' They've succeeded magnificently with 'Bad When It's Good.' Catchy, slashing guitars over driving drums make this track highly listenable and probably danceable.
False Fire – Stargazing
False Fire features the beautiful voice, and original songs, of Emma Oberman. Originally from Chicago, the band is now based in NYC. 'Stargazing' is a great example of the unpolished potential that we love. We will hear more from Emma in the future. False Fire is also, they claim, a Nirvana cover band. OK.
William Shatner – Silver Machine
Yes, it's that William Shatner and no, he can't sing. But the track features Wayne Kramer (MC5) on guitar and Carmine Appice (Vanilla Fudge, Cactus, Jeff Beck) on drums and they sound like they mean business. Think early KISS with a lead vocal by that teacher in Ferris Bueller's Day Off.
The Beaters Band – Diana
Life doesn't get better than a Paul Anka song with a punk arrangement. It has that boom-POPPOP-buhPOP Ringo Rhythm that would move the feet of a 90s-vintage German footballer. The Beaters Band self-describes as 'una Band italiana di Livorno che riarrangia brani Rock americani anni 50/60 in una Fusion tra PunkRock & Rock'n'Roll.' Heck yeah!
And there you have it: five great pop songs to get your weekend off to a rocking early start. Show up to a party tomorrow night with these on your phone and an aux cord in your pocket and it'll be free white wine all night. Probably from a box, but next year we hope to move up to those little plastic bottles that you get on an airplane. Be sure to check out these deserving artists on Bandcamp, and buy their music!