Billy Bacci – Boxing Ring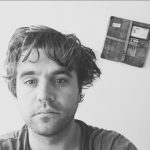 'Real isn't how you are made,' said the Skin Horse. 'It's a thing that happens to you. When a child loves you for a long, long time, not just to play with, but REALLY loves you, then you become Real.' — from The Velveteen Rabbit by Margery Williams
I'm so embarrassed. I'm not a real person yet. — from Frances Ha by Noah Baumbach and Greta Gerwig
Stuffed rabbits and people long to be Real, to reach that magic moment in which we know and accept ourselves, and are accepted and admired by our friends and family. While the former is the more difficult challenge, the latter can be equally frustrating. For all of the forty-two years that I knew her, my Mamaw berated my father for a failure to take up golf, and continually castigated her long-dead husband for loaning his neighbor a shotgun and never retrieving it. Thus the planets of our lives revolve on the trivial.
With 'Boxing Ring,' Billy Bacci reminds us that, when it comes to friends and family, we can never step outside the ropes and untape our hands. Our great hope is to avoid accumulating too much scar tissue. It probably helps to have a good cut man in your corner.
feels so good to be sentimental
you know you love to share a beer
but it's no fun selling yourself to someone
who's known you for seventeen years
'Boxing Ring' slides comfortably into that sweet spot between folk and country, with understated instrumentation creating the perfect backdrop for the words. The song is subtle, yet slightly addictive. I've had it on heavy rotation for two days.
Billy Bacci self-describes simply as 'a musician and producer from Richmond VA.' Today's track is from his new ten-song album, Golden Mile Sessions, which was recorded 'on a Tascam 8 track.' And that's about all I know about Billy Bacci. Based on what I can see by stalking him on Instagram, Billy seems to be gaining some traction and playing dates from Brooklyn down to Chapel Hill. This Friday night, he'll be appearing at the Dark Room Lounge in Richmond.
You can support deserving independent musicians like Billy Bacci by visiting his Bandcamp page, listening to his songs, and downloading your favorite tracks. And be sure to follow Billy on Soundcloud, YouTube, and Instagram.
Bonus Video: 'Michael Emery,' Billy Bacci's 2016 Tiny Desk entry. The song appeared on the album Dust Talks.