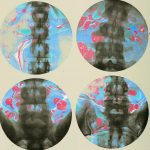 Mathematical platonism is the metaphysical view that there are abstract mathematical objects whose existence is independent of us and our language, thought, and practices. – Øystein Linnebo, Platonism in the Philosophy of Mathematics
The Mobius Strip is slung about as proof of mathematical platonism: an object that exists yet is impossible to exist, a three-dimensional object with a single side and a single edge. Disorienting because it is unoriented, the infinitely-long strip embodies what we desire yet often fail to achieve: two lifetimes melded into a single-sided timeline.
In 'Backbone,' SERAPHINA describes the relationship that violates all laws of physics and metaphysics by rotating our resolve into an impossible configuration, an emotional pretzel within a body whose spine has turned to mush, the pairing that causes your death yet miraculously renders you more alive than you have ever been.
'Backbone' kicks off with a bluesy guitar riff overlain by an incredible vocal that simultaneously displays strength and vulnerability. At two-minutes-forty the blues are abandoned and the music morphs into a powerfully soulful anthem in which all Euclidian surfaces are laid bare.
SERAPHINA's music has been described as Pop Noir, 'with inspiration drawn from as far afield as the cobwebbed trees and gospel choirs of family in the Deep South, and as close as the sex shops and speakeasies of Soho.' Of 'Backbone,' she tweeted, 'This song is about all the mess our hearts & bodies get us into.' The track was composed by SERAPHINA and produced by Tom Stafford. The video is also her creation, which she dubs 'another weird ass video I made from the dusty corridors of the internet.' A member of the Trills, SERAPHINA is based in London.
SERAPHINA's music is available on Soundcloud, Apple Music, and Spotify. Visit her webpage, and be sure to follow SERAPHINA on Facebook, Instagram, and Twitter.