Sanpaulo – Roll Away the Stone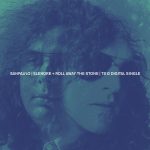 Mott the Hoople was one of those almost bands: almost roots-rock, almost pop, almost great. After releasing four albums that were barely noticed in the US, the band gained traction with 1972's David Bowie-produced All the Young Dudes. Mott the Hoople was shoved – or shoved themselves – into the glam pigeonhole, released two more studio albums, made a highly-publicized appearance on Broadway, toured constantly, and were more or less defunct by the end of 1974. They left behind a small but noisy clutch of fans who consider Mott the Hoople to be the best band in the history of music.
Mott the Hoople released the single version of 'Roll Away the Stone' in 1973. The track featured original member Mick Ralphs on guitar, and a spoken-bridge exchange between lead singer Ian Hunter and a member of backing vocalists Thunderthighs. After Ralphs departed to form Bad Company, the song was re-recorded for inclusion on The Hoople, the band's final studio album, with Ariel Bender (Luther Grosvenor) on guitar and with Lynsey de Paul providing the bridge.
It's been noted – by people whose ears are better than mine – that the guitar riff in 'Roll Away the Stone' could have been lifted from the Beatles' 'While My Guitar Gently Weeps.' Sanpaulo takes that Beatles idea and runs with it, creating a re-imagined version of 'Roll Away the Stone' that sounds closer to 'Here Comes the Sun,' with a vaguely flamenco acoustic guitar and an organ burbling beneath the surface.
Sanpaulo is Paul Nini, aka Saint Paul, aka "the guy that runs the Old 3C Label Group," based in Columbus, OH and described as "the Midwest's premiere micro-indie label group." We previously featured his cover of the Flying Machine's 1969 hit, 'Smile a Little Smile for Me.' 'Roll Away the Stone' is the backing track to his latest single, 'Elenore,' a hit for the Turtles way back in 1968. 'Elenore' is one of those songs that you've heard but can't name. I always wondered what the lyric L-N-O-G was supposed to mean. Maybe it was code for something that I was too young to understand.
You can support deserving independent musicians like Sanpaulo by visiting his Bandcamp page, listening to his songs, and downloading your favorite tracks. Be sure to follow Sanpaulo on Facebook and Instagram. And follow Old 3C Label Group on Facebook and Twitter.
Bonus Track: For you hard-core Mottheads out there, here's 'Sweet Angeline,' a Rolling Stones-esque rocker featuring original member Verden Allen on organ.