ROOKIE – I Can't Have You But I Want You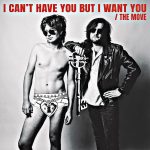 The chasm between what we have and what we want has loomed large in the human experience since that eons-ago moment when Thag Jones gazed from the mouth of his cave at the distant woolly mammoth and measured his desire to transform the creature into a rump roast of epic proportions against his realization that any attempt to vanquish the beast would result in his own conversion into an unimpressive shish kabob carried home on the tusk of Papa Mammoth for the bemusement of his children. ROOKIE revisits the gulf that separates desire and fulfillment in their new single, "I Can't Have You But I Want You." We could be talking about the longing for a relationship, money, a job… No, let's be honest, we're talking about somebody who's really into someone else and they don't want anything to do with it. I mean, this is rock-n-roll, right? Nobody does a song like this about a job.
Whatever or whomever inspired ROOKIE to lay down this track, the result is a swaggering slice of rock and pop that channels every person who ever plugged in a guitar, thought about the ex who dumped them, and blew the memory into a million fragments with the slash of a single power chord. Layer on an excellent lead vocal and harmonies sung by someone who has more chops than one typically stumbles across in Bandcamp's New Arrivals section, and the product is a track that will have you popping your foot on the floor and trying to sing the damn thing. Well, I did, anyway. Your mileage may vary.
Longtime readers of these virtual pages (both of them if we include the cat) know that the paragraph after the Bandcamp thingy is where I cite an obscure reference to display my encyclopedic knowledge of popular music (volumes 1956 through 1984), but I will refrain from reaching too far into the back shelf this time. I immediately conjured the J Geils Band with overtones of Big Star and maybe Badfinger. The arrangement features a Fender Rhodes and what sounds like a Hammond B-3 (my bad, it's a C-3), so that should give you some idea. That overdriven lead line in the chorus came from somewhere and at one time I would have spent two hours going through my music library trying to find it but I'm hungry and I haven't had supper yet and if I wrap this up I won't have to join the masses of humanity that want something that they can't have. Which in my case is my awesome wife's awesome leftover Shepard's Pie. Didn't see that one coming, did you Diann?
ROOKIE is, according to this excellent article by Josh Terry, Joe Bordenaro (vocals, drums), Max Loebman (vocals, guitar), Dimitri Panoutsos (guitar), Kevin Decker (bass), and Elan Frankel (keyboards). On "I Can't Have You But I Want You" they are augmented by Chris Kulwin (guitar) and Steve Kostakes (organ). Joe and Max are the primary songwriters. While the band is relatively new, all members have been active in the Chicago music scene for a few years. They obviously know their way around a studio and have a natural feel for combining rock and pop. (insert bad joke about ROOKIE not being rookies) I'll bet ROOKIE kicks ass in a club. "I Can't Have You But I Want You" is probably a good representation of their live sound, as it was "recorded live to tape." The single is available on 7-inch vinyl from Treehouse Records. The first ten pre-orders come with a limited edition chastity belt key. Not sure what that's about, but I might have to order the single just to find out.
You can support deserving independent musicians like ROOKIE by visiting their Bandcamp page, listening to their songs, and downloading your favorite tracks. Or visit their page at Treehouse Records. And be sure to follow ROOKIE on Facebook and Instagram.