Long Lost Suns – Wander On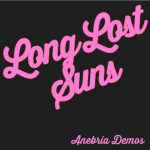 Long Lost Suns' "Wander On" reminds us that sometimes you have to saddle up and ride off into the smog-hazed mid-morning sun, The Man With No Name, bags of gold across your saddle or like Eli Wallach, running on foot with your hands bound behind you and screaming at the top of your lungs, the critical task being to put significant distance between you and your Previous Relationship, that soon-to-be-maggot-ridden corpse of Lee Van Cleef that left you scarred and with a bad case of indigestion, or that dead horse you've been beating for the entire third reel in the oft-mistaken belief that inflicting pain on an entity that ceased to feel multiple deaths ago will miraculously result in Resurrection, your relationship a veritably rom-com-worthy Lazarus.
"Wander On" opens with a dose of psychedelic shimmer, then gets down to the business of blending 60's proto-punk with melodic guitars and a Motownish sense of song construction. The star of the show is the interplay between the lead voice and the lead guitar, as the guitar lines weave effortlessly from countermelody to solo and back. Listen for the transition from verse to chorus as "Wander On" glides from bluesy riff to an easy breeze of classic pop.
As my two longtime readers, Diann and Fluffy, are fully aware, the paragraph below the Bandcamp Thingy is reserved for the Obscure Reference, and I'm not about to mess with a formula that has made Reverb Raccoon the most-read music blog in the area immediately surrounding my router, assuming Fluffy isn't currently napping under the bed. "Wander On" has obvious antecedents in groups such as The Animals, who combined 60's pop with a punkish attitude and swagger, with the aforementioned verse-chorus seamless weld recalling "We Gotta Get Out Of This Place." I'll obscurify the mix by tossing in the Greenhornes' "There Is An End," with a background-haunting guitar riff and stark vocal that "Wander On" summons from the back left corner of the iPod's flash memory.
Long Lost Suns is Matt Jones and Danny Falletta and maybe a couple of other guys if one believes the pictures. The San Diego-based band describes itself as "a psychedelic skate rock band" and their music as "rock and roll and lover's synth psychedalia [sic, dude!]" And Lover's Synth would be a great name for a band. "Wander On" is from their new six-song EP, Anebria Demo. Demo or not, these are high-quality songs. The question was not whether a song of the day could be extracted from the lot, but which one to choose. Each track received serious consideration, with "Wander On" being my ultimate favorite with its timeless blending of musical elements.
You can support deserving independent musicians like Long Lost Suns by visiting their Bandcamp page, listening to their songs, and downloading your favorite tracks. And be sure to follow Long Lost Suns on Facebook and Instagram.