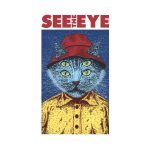 See The Eye's "Shimmer" is a shimmering source of shoegazey nugazey dream pop, a pulsating pile of echoing guitars and energetic drums that bounces off the back wall and wraps itself around your head like an elastic aural mirror that reflects and distorts this wall of sound, a veritable suite of reverby riffs and softly executed vocals. Listen to "Shimmer" while sampling a Hopworks Honey Lager from an unchilled unstemmed wineglass that you bought years ago and contemplating how those years were a lifetime that brought you to this day when you can finally say "We are."
"Shimmer" begins innocently enough, with an acoustic guitar that fools you into believing that you've stumbled into a folky coffee house where the Mac Books outnumber the cargo shorts. And you can believe that for all of seventeen seconds, until the hi-hat hits and the guitars open up along the firing line. Far from being an excuse to plug in the delay pedal, "Shimmer" is a beautifully melodic track featuring multiple movements and ever-shifting textures. The effect is hypnotic and surprisingly danceable.
See The Eye is based in Jakarta, Indonesia, a pleasant place that I've had the pleasure of visiting a few times. The band is Harry Zulhazs (lead guitar, vocals), Danny Yuwanda (rhythm guitar, vocals), Abee Kusmara (bass, vocals), and Arya Adita (drums, percussion). "Shimmer" is from their six-song EP, titled EP, released earlier this year. The EP includes "Social Bribe," an excellent single released in 2016 featuring a stunning lead vocal by Yudith. EP is available from Bombay Records, which also carries Seventeen Years Old and Berlin Wall, a band we featured in July.
You can support deserving musicians like See The Eye by visiting their Bandcamp page, listening to their songs, and downloading your favorite tracks. And be sure to follow See The Eye on Facebook, Instagram, Twitter, YouTube, and Soundcloud.
And check out more releases from Bombay Records on Facebook, Instagram, and Bandcamp.