American Television – Death Defier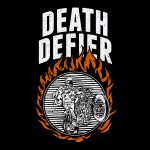 You can bet the farm, bet your bottom dollar, bet five dollars a hole with two dollars in your pocket, or bet yourself that you won't get dumped for coming home late with the coffee grounds of another woman trailing across that worn out Kirk Cousins jersey. Which brings us to "Death Defier" by American Television. Of all the things you can drop your wad on, it's that gamble you make on a Relationship that's either a killer or a death defying ticket to eternal life, the one that has the power to make you feel more alive than a cockroach romping across a stale pepperoni pizza or deader than the open can of beer that's been sitting in your garage behind the Christmas ornaments since you took down the tree last April. Win the bet or lose, you're about to have a Life Changing Experience.
"Death Defier" is a melodic buzzsaw, an atom-smasher with just enough pop infusion to leave an aromatic aftertaste, the kind that has you reaching for the replay button and saying, "Uh, hey, let me hear that part again." The track roars to life with the prerequisite punky guitar/guitar/bass/drums, but the creative song construction and well-sung lead vocal set this track apart from its partners in grime. "Death Defier" rocks hard, but you won't feel as if you're being struck repeatedly between the eyes with a ball peen hammer.
American Television, based in Washington, DC, is Steve Rovery (vocals, guitar), Jerred Lazar (guitar, vocals), Bryan Flowers (drums), and Edwin Wikfors (bass). "Death Defier" is their new single, backed with "The Creek." The band accurately self-describes as "melodic punk." American Television has been around for five years and, from what I can tell, appears regularly in the DC area. Judging from their videos, the guys are slightly beyond the "snot-nosed punk" stage which, it says here, is a positive. It takes a few years to knock the edge off the angry angst.
"Death Defier" was released in tandem with a special blend of coffee from Weird Brothers Coffee. Buy 16 oz. of beans and you get unlimited listening on Bandcamp and a digital download. Or something like that. Better hurry because, as of this writing, there's only two bags o' beans left. At any rate, here's a cool video showing the guys on location at Weird Brothers.
You can support deserving independent musicians like American Television by visiting their Bandcamp page, listening to their songs, and downloading your favorite tracks. And be sure to follow American Television on Facebook, Instagram, Twitter, and YouTube.
And if you're in the DC area, you can catch American Television live at Club Heaven and Hell on August 16, and at The Pinch on September 03.