Ben Talmi – Give It A Shot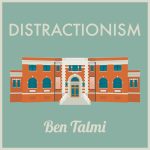 Ben Talmi's "Give It A Shot" is a wonderful wall of slow-brewing positive energy, layers of sound blowing away the "Why?" and transfiguring the doubt as Shaw's "Why not?" As a great person once said, you miss all of the shots you never take, and if you're arguing and can't remember what you're arguing about, then you're standing where your heart was and not running toward the sunset into which your heart will ride tomorrow evening.
"Give It A Shot" begins pleasantly but inconspicuously, with basic rhythms beneath voice and guitar, then builds – the way the best pop songs always do – adding voices, piano, strings, and finally a pile of harmonies and background singers. The impact is simultaneously charming and exhilarating, with a timelessness that could be rooted in any decade from the last five and, with luck and lack of a warmed globe, will still be relevant at the next mid-century mark.
Regular readers of these virtual pages know that the paragraph below the Bandcamp widget is reserved for the Obscure Reference, and we're not about to mess with a formula that has pulled in over three visitors in the past twenty-four hours. "Give It A Shot" has a vaguely obvious resemblance, vocally and melodically, to the power ballads of early 8o's REO Speedwagon, specifically "Take It On the Run." But that isn't the level of obscurity that our readers are seeking; they could find that in Pitchfork though they'd need to turn on an ad blocker. A more obscure reference is Static in Verona (aka Chicago musician Rob Merz). An excellent example of his work is "Funny Things," which we featured in February. A close comparison of the music of Static in Verona and the work of Ben Talmi reveals that they sound absolutely nothing alike. The similarity is in the feel, and in the dedication to crafting wonderful pop songs, mini-symphonies that stick in your head and trigger an unconscious reach for the replay button.
"Give It A Shot" is from Ben Talmi's new ten-song album, Distractionism. Ben is by far the most well-known artist that we have featured this year. He has over 9500 Facebook Likes, while many of the musicians we review are so unknown that they don't even know about themselves. I'm pretty sure that a few of the people we've praised think this blog is some sort of elaborate practical joke set up by one of their friends. But Ben Talmi is The Real Deal: a musician, songwriter, arranger, producer, and engineer with a large number of credits for scores and orchestrations in films and television. He is the owner of Greylock Records, "a full service recording studio in Brooklyn, NY." An interview published last year in Prelude Press is an excellent introduction to Ben and his work.
You can support deserving musicians like Ben Talmi by visiting his Bandcamp page, listening to his songs, and downloading your favorite tracks. And be sure to visit Ben's website, and follow him on Facebook, Twitter, Instagram, Soundcloud, Spotify, and iTunes.