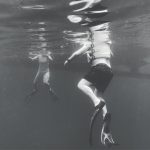 Tampa's "Unless" is a suite of post-breakup sights and sighs, one movement blending into the next, a musical journey that parallels the emotional drive through the mountains that is the daily commute of anyone who has called the moving van on a relationship that is beyond its expiration date, or perhaps awakened to find a rumpled sheet where once a lover rested and a For Sale sign hammered into the still-warm mattress. Listen to "Unless" while wearing a Hawaiian shirt and eating leftover chicken, secure in the knowledge that, no matter where you are, it's better than where you were.
Tampa resides, not in Tampa – that would be too easy – but in Moncton, New Brunswick. Being an American hiding behind that wall you've heard so much about or, in my case, a crumbling privacy fence of sufficient porosity for me to watch the neighbors eating dinner, I had to check out Moncton on Wikipedia. Seems that it's a rather large town whose most popular attraction is Magnetic Hill, a place "where the local topography gives the impression that you are going uphill when in fact you are going downhill," and which Tampa should claim as the inspiration for "Unless." I give these ideas away for free; it's what I do.
"Unless" is Tampa's new single, b/w "Intro Heartfelt." The band comprises Mathieu Leblanc (guitar), Nic Leblanc (vocals, keys, guitar), Marc-André Belliveau (drums), and Katrine Noël (vocals, bass). They self-describe as "a shimmery beach-rock quartet … with tight, driving rhythms and impeccable pop hooks." All of the aforementioned elements are present in "Unless," with the North Star being Nic Leblanc's lead vocal, a voice rooted in mid-70's punk and New Wave but with shadings of mid-00's Andrew Byrd.
You can support deserving independent musicians such as Tampa by visiting their Bandcamp page, listening to their songs, and downloading your favorite tracks. And be sure to follow Tampa on Facebook, and Instagram.
And if you're in Saint John this Saturday, be sure to catch Tampa at the Area 506 Festival. Sounds like a good time will be had by all!