J Wagner – Where the House Used to Sit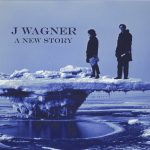 J Wagner's "Where the House Used to Sit" ripples through that pleasantly nostalgic space in your head where not-too-country melodies brush against the lyrics of Bruce Springsteen as a steel guitar and a quiet organ paint a pensive backdrop. Listen to "Where the House Used to Sit" while sipping Bombay Sapphire and store-brand Sprite from a stemless wine glass as you ponder the faded prayer flags that hang motionless behind the garden in the airless August evening.
"Where the House Used to Sit" is from J Wagner's just-released album, A New Story. Selecting a single track to represent the album is borderline heresy. The album's eleven songs should be enjoyed holistically, as LP's were experienced in the non-digital age, when the tone arm was aligned with the first track and lifted only for the brief pause required to flip the vinyl disc and commence the second act. The songs of A New Story align in a continuous groove, each moving seamlessly to the next.
The two regular readers of this blog – my cat and my awesome wife – know that, like all music journalists, I am compelled to inflate each post with at least one Obscure Reference. The Obscure Reference for today: A New Story has an overall feel and sound that is wonderfully similar to Marc Brenton's fantastic 2013 album, Corsair. That's no surprise, as J Wagner produced, and played on, Corsair. Full disclosure: I have an executive producer credit on Corsair, but they spelled my name incorrectly. So it goes.
Based in Austin, Texas, J Wagner is by far the most established artist that we've featured this year. To lazily borrow from his Spotify profile, he was named "a number one best bet" by The Austin American-Statesman. The Dallas Morning News called him "a Texas folk music staple." And The Austin Chronicle awarded J Wagner the title of Best Local Singer Songwriter of 2014. In other words, he's The Real Thing.
You can support deserving musicians like J Wagner by visiting his Bandcamp page, listening to his songs, and downloading your favorite tracks. In the case of A New Story, just go ahead and buy the whole thing. You can thank me later. And be sure to visit J Wagner's website, and follow him on Facebook and Spotify.
Bonus Track: "Abide," from Marc Brenton's Corsair, produced by J Wagner. This has been the wake-up alarm on my phone for the past few years. Good song to start the day. Enjoy!