FreeThinker – Chris(mas) Song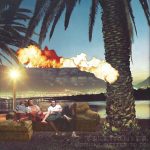 FreeThinker's "Chris(mas) Song" is the soundtrack to everyone's favorite movie, that rom-com set in the Midwest with that really good actress, you know, the one in that jewel thief movie. A quick flashback to a meet-cute at a small college before the opening credits roll and "Chris(mas) Song" plays while we track a car driving from the past into the present day. Or something like that.
This should be a one-sentence review. I should just write Molly Giessing is a seriously good singer and you should listen to "Chris(mas) Song" because she sounds fantastic. But of course I can't stop there because I need to fill up the page. "Chris(mas) Song" is a gently swinging, almost retro track that rocks in a sneaky way and features a sweet cloud of background voices. There's a uniquely powerful quality in Molly Giessing's voice. She could sing the Pro Tools instruction manual and make it compelling. Full disclosure: I've never read the Pro Tools instruction manual because I'm pretty sure it would not be compelling.
One of our time-honored page-fillers is the Obscure Reference, in which I pull a worn chestnut from the memory bank in order to display my Encyclopedic Knowledge of Popular Music. This one was easy: the opening chords of "Chris(mas) Song" summon the ghost of Neil Young's "Harvest Moon." But if we need to crank the Obscurity Pot up to 11, we can say that there's a strong undercurrent of Ex Cop's "Spring Break (Birthday Song)." Maybe it's all in the parentheses.
FreeThinker, based in St. Louis, is Molly Giessing (vocals, guitar), Cody Diehl (drums), Elijah Burns-Wilton (bass), and Chris Murphy (guitar). "Chris(mas) Song" is the closing track on their new album, Nothing Better To Do. Most of the album rocks a bit harder than "Chris(mas) Song," giving the last song the feel of a coda, or perhaps the music to play over the closing credits of our favorite movie, rather than the opening.
You can support deserving independent musicians like FreeThinker by visiting their Bandcamp page, listening to their songs, and downloading your favorite tracks. Be sure to visit FreeThinker's web site, and follow the band on Soundcloud, Facebook, YouTube, Instagram, and Twitter.
Bonus Track: Every Song of the Day is my favorite song for, well, for at least one day. But FreeThinker's "Pineapple Sticknpoke" has been at the top of my playlist since I featured it back in March. This is a good one. Enjoy!