Earthset – Flush (Studio Session)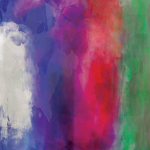 Earthset, an alt-rock band based in Bologna, Italy, spins jangly veils of sound and light over a solid rhythm and shot through with vocals voicing pain and paranoia. On "Flush (Studio Session)" all elements mesh to spin an engaging web connecting the corners of pop and art.
Recorded live, "Flush (Studio Session)" is more mini-suite than standard song, flowing through multiple movements with a dramatic arc that eventually resolves into an extended coda. The strength of the track is the vocal of Ezio Romano, whose voice could carry a track in any genre. Lyrically, "Flush" is a bit of a cipher to me as I am more Pnin and less Invitation to a Beheading. So I will allow the band to provide the Sparknotes: "The lyrics tell of a circumstance where the protagonist discovers and accepts, by breaking his/her routine, a hidden, and to a certain extent disowned, part of herself." 
Delve into the core of my musical brain and you will unearth a basic pop fan: just give me a guitar riff, a chorus, and a pile of harmonies and I'm happy. Too many steps beyond those parameters and I'm out of my comfort zone and over my head. But "Flush" challenges while remaining accessible. The inevitable comparison to The Cure falls short, as Earthset creates a more interesting soundscape of dynamic spans and tempo shifts.
Earthset is Luigi Varanese (bass), Costantino Mazzoccoli (guitars), Emanuele Orsini (drums), and Ezio Romano (voice and guitars). "Flush" originally appeared on their 2017 album, POPISM. Today's version was recorded live at Fonoprint Studios and filmed by Frameless (aka Luca Rubertà). I prefer the live version to the original. The live variant is airier; the guitars ring and the drumming feels natural. If "Flush (Studio Session)" is an indicator, then Earthset may be an amazing band to catch live.
You can support deserving independent musicians like Earthset by visiting their Bandcamp page, listening to their songs, and downloading your favorite tracks. And be sure to follow Earthset on Facebook, Instagram, and Twitter.