John McDonagh – My Painted Eye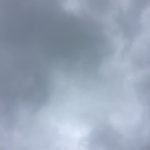 "My Painted Eye," by John McDonagh, is a startlingly beautiful slate-colored cloud of intertwined guitars and vocals, floating in that space that connects and separates rock, country, and psychedelia, featuring a chorus of harmonies mixed in the somewhere-over-the-sunset-washed Lost Horizon. Listen to this song while gazing through the blinds at the hot sky tinged with Saharan dust and the doves taking shelter in the green shade of the ash tree.
"My Painted Eye" eases into existence with multiple guitar tracks before the distant harmonies sidle in and tap you on the shoulder. I had to back up the first verse and re-listen twice, not expecting to hear the Beach Boys backed by Poco.
As a Certified Music Journalist, I'm obligated to inject at least one Obscure Reference into each review. We are congenitally driven to do this; the only reason anyone becomes a Music Journalist is to demonstrate an Encyclopedic Knowledge of Popular Music to the rest of the world. So it's either write a blog or work in a record store with Jack Black and John Cusak. The Obscure Reference for today: "My Painted Eye" brings to mind "Just a Day," by obscure-but-talented Fort Worth musician Cowboy Grizzly, aka Grant McMahan. Something in the spirit of the guitar lines and the massed, complex harmonies.
"My Painted Eye" is from John McDonagh's new 12-song release, Time Windows. This looks like a DIY project, with all the wonderful imperfections – unfiltered amplifier buzz and an occasional wandering harmony – that make these recordings interesting. I don't know anything about John McDonagh except that he's from Chicago and has more Facebook friends than me. We're obviously dealing with a talented musician who isn't afraid to shift keys and to write songs that challenge his vocal abilities.
You can support deserving independent musicians like John McDonagh by visiting his Bandcamp page, listening to his songs, and downloading your favorite tracks. In addition to "My Painted Eye," I recommend the beautiful instrumental "Time Window," and the retro-ish "Same Old Road." Enjoy!