Two Songs by Seventeen Years Old and Berlin Wall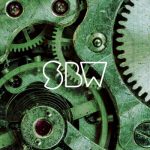 Today we feature two songs by a Tokyo-based band, Seventeen Years Old and Berlin Wall. Their Facebook biography, as translated from Japanese by Google, describes the band as "Shoegazer, pops by a gender twin vocal to the sound image influenced by Dream Pop, while placing a melody that feels somewhere hypothermia." Which is actually not a bad description of this chill band with a pair of singers and a dreamy mist of introspection. Full disclosure: I can't understand the words, so they may be singing about being serial killers. But I don't think so.
"Talking Eggs" is from Seventeen Years Old and Berlin Wall's first mini-album, Aspect, released in 2015. The track is full of energy and what I assume to be positive vibes. As always, we are obligated to inject at least one Obscure Reference into each review. Our Obscure Reference for Today: "Talking Eggs" is full of twee, inciting us to favorably compare the track to "Summer's Failing," the Phil Spector-ish single from NAH…, sung by the ubiquitous Kenji Kenji.
Aspect is available on cassette from Indonesian label Bombay Records. The album can be downloaded from Bandcamp for the low low price of only $1000 US. To be honest, that's slightly out of my price range. Maybe there's a tariff or something. Thanks, Obama. Downloads of individual tracks are not available, mirroring the creeping socialism that plagues modern society.
"By The Window" is from Seventeen Years Old and Berlin Wall's second mini-album, Reflect, released in 2017. The track is, well, Reflect-ive, with a ringing guitar and a folky, borderline country feel. Again, I can't grasp the lyrics. They may be singing about a longing to bite the heads off rats, but I imagine the song to be about gazing out the window and contemplating a lost love or maybe lost youth.
Reflect is available on cassette from Sango Records of Kyoto. Digital download of the album is available from Bandcamp, reasonably priced at $905.26 US (or more). I will wait for this one to end up in the digital equivalent of the cut-out bin. Fortunately, "By The Window" (though not, apparently, other tracks on the album), is available individually for mere pennies.
Seventeen Years Old and Berlin Wall is Yusei Tsuruta (vocals, guitar) and Eriko Takano (vocals, bass), and possibly Takuji Yoshida (guitar) and Junichirou Miyazawa (drums). The band has a new album, Object, set for release in August. The first single, "Outlook," can be streamed on Soundcloud. Give it a listen. And be sure to follow Seventeen Years Old and Berlin Wall on Facebook, Twitter, Tumblr, and YouTube.