The Con Way – Away From You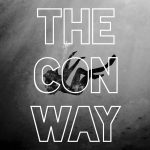 "Away From You," by The Con Way, has all of the elements that we love in a good song, and none of the crap that we don't like. Good Things that are in "Away From You:" tight guitars playing interesting figures, melody, a singer who can sing, harmony, a discernible chorus, and energetic bass and drums that enhance the song and sound like they've, you know, practiced together. Bad Things that are not in "Away From You:" a weird sound at the beginning of the track (at least 99% of the songs on Bandcamp start with a weird sound), a singer who screams at me for no valid reason, guitarists that compensate for lack of talent with volume and distortion, and bass and drums that make me feel like I'm being struck between the eyes repeatedly with a ball peen hammer.
"Away From You" opens with the aforementioned interesting guitar figures. Not exactly riffs or a hook, but a counter melody that's fun to hear and that carries the track along nicely. The band has a great feel for dynamics, shifting the arrangement to match the track's narrative arc as we swing from verse to chorus to bridge and back. The solo voice over acoustic guitars as things wind down is a pleasant touch. But don't be fooled by the false ending.
Regular readers of Reverb Raccoon (both of them, including the cat) know that, as a Certified Music Journalist, I am obligated to inject at least one Obscure Reference into each review. All music journalists do this in order to exhibit our Encyclopedic Knowledge of Popular Music. And if I don't, the union will send a scrawny hipster wearing cargo shorts to the house to rip that coveted Music Press card from the hatband of my Fedora. Hey, he's tougher than he looks. Anyway, the Obscure Reference for Today: "Away From You" brings to mind "Apollo" by Atomic Cafe, an excellent but requisitely obscure band from Minnesota that we featured last week. What? No, that isn't self-promotion.
"Away From You" is the new single from The Con Way, a Sharon, MA band comprising Paul Fleming (guitar, vocals), Adam Selsman (guitar, vocals), Justin Wilbur (bass), and Sam Pinkowitz (drums). The band has a great backstory, which we lifted from their Bandcamp page: "The Con Way was formed in 2013 when its members were in high school. At the end of college, the band reunited to write and produce their first project, A Spiral Down [a four-track EP released last year]."
You can support deserving independent musicians like The Con Way by visiting their Bandcamp page, listening to their songs, and downloading your favorite tracks. And be sure to follow The Con Way on Facebook, Twitter, Instagram, and Soundcloud.