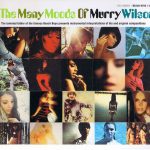 Today we feature a pair of long-forgotten oddities, by a songwriting plumber, that appeared on an album credited to the father of Beach Boys Brian, Carl, and Dennis Wilson. Eck Kynor, and his compositions "The Happy Song" and "The Plumber's Tune," was a footnote embedded in a footnote of musical history.
If you've seen or read or heard anything about the early history of the Beach Boys, you were no doubt left with the impression that Murry Wilson, father of Brian/Carl/Dennis and uncle of Mike Love, was an untalented megalomaniac and that the Boys, by dint of their own talent and determination, were able to succeed in spite of Murry's interference. The truth is perhaps more nuanced but less made-for-television.
Murry Wilson was the songwriter who brought the world "Two Step, Side Step," recorded by country artists Johnnie Lee Wills and Bonnie Lou in the early 50's. We're not talking "Stairway to Heaven," but nobody was in 1953. It was serviceable country-pop back in the day. The following year, Murry scored another not-bad song when The Jets – aka The Hollywood Flames – recorded his doo-wop ballad "I'll Hide My Tears." Jimmy Haskell also recorded "I'll Hide My Tears" along with Murry's "Fiesta Day Polka." Murry Wilson obviously had some moderate talent, yet the world has been presented with the idea that he was a complete hack who was somehow smart enough to recognize the genius in his own sons.
As a businessman, Murry Wilson is derided for prematurely selling the publishing rights to the Beach Boys catalog for $700,000 in 1969. But the list of musicians who made bad publishing deals is pitifully long. The Lennon-McCartney catalog famously ended up in the investment portfolio of Michael Jackson, alongside – it was incorrectly rumored – "On Wisconsin." Hindsight has perfect pitch, but in 1969 the Beach Boys were practically a novelty act and $700,000 was almost $5,000,000 in today's money.
As far as being a Bad Person and a Bad Dad goes, the Dictatorial Business Manager and the Domineering Parent are familiar memes, both being frequently-appearing caricatures in Behind the Music documentaries. Who can say. After Murry Wilson died in 1973, the only people who could defend him were those who had a vested interest in staying on the good side of Brian Wilson and his brothers. Now, about Eck Kynor…
In 1967, Capital Records released The Many Moods of Murry Wilson. If the photographs on the album cover are indicative of Murry's many moods, then the guy spent a lot of time thinking about women young enough to be his daughters. Maybe he wanted to be a woman – who knows? Murry's contribution to the project seems flimsy at best. The notes on the back read "Conceived and Produced by Murry Wilson." He wrote five of the twelve songs. He didn't arrange them or perform them. I supposed he chose the songs and perhaps hung around while they were recorded. The songs are all instrumentals, containing a superabundance of strings. "Painting with Teardrops" features a tinkling piano that is a dead-ringer for Floyd Kramer's style. If that isn't Floyd, it's someone doing a spot-on Floyd Kramer impersonation. The whole album falls into the crevasse of schmaltzy, easy listening fare.
Now, you may ask, why would Capital release such an album, if not to complete some Secret Deal implanted by Murry in the Beach Boys' contract? The answer is probably less intriguing. Back in the 60's, record companies were churning out tons of this crap. I know because my mom bought it. She saved up her money and purchased a proper console stereo, with a beautiful wooden cabinet and a heavy lid that opened from the top to reveal a turntable, an AM-FM radio, and a bin for storing albums. And the first album that she bought to play on it was a Goodyear Christmas Album. These were compilation albums that Goodyear issued each year, featuring Christmas songs performed by singers such as Burl Ives and Doris Day. You had to go down to the tire store to buy them, which Mom was perfectly happy to do if that's where the Good Music was found. This album was soon joined by 101 Strings Plays Hank Williams, the soundtrack of Gone with the Wind, and a slug of other syrupy renderings. Mom wasn't alone in her tastes; millions of record buyers were addicted to this stuff. Our town had an FM station that played easy listening music continually from 6AM to 10PM. So, long story short, The Many Moods of Murry Wilson was just one of hundreds, perhaps thousands, of similar records being fed through the record company hopper. Talent and Quality played second fiddle to Product. In that respect, Capital Records slipping one into the chute with Murry Wilson's name on it doesn't seem that strange. Which brings us to Eck Kynor…
The album notes for The Many Moods of Murry Wilson tell us, "…in keeping with Murry Wilson's philosophy that new talent should be heard, several of the songs included in this album are those of new songwriters: 'The Happy Song' and 'The Plumber's Tune' by Eck Kynor, a 40-year-old plumber, who's been writing only a short period of time; 'Islands in the Sky' by 20-year-old Rick Henn; 'Broken Heart' by lifetime friend George Kizanis."
Eck Kynor's contributions are spritely, polka-ish things, kinda good in a Lawrence Welk sorta way. Both feature a cheap-sounding organ and possess the paisley tie-swinging swagger that the millions of Americans who bought cheap Hammond organs and wedged them into their living rooms imagined oozing from their pores as they walked through a cocktail-swilling crowd and seated themselves before the whirring machine to bedazzle their friends and neighbors with stirring renditions of "Born Free" and "The Mexican Hat Dance." Only in reality they never got beyond a creaking, two-fingered version of "Twinkle Twinkle Little Star."
It is doubtful that Eck Kynor actually played the organ on these tunes. On Discogs he is credited with "Writing and Arrangement," and also with – improbably – providing artwork for Roky Erickson's Acoustic EP. I took a poke down that rabbit hole and immediately ended up on a Daniel Johnston discussion board, which I suppose is where all mentally ill musicians eventually end up.
So that was a long slog for a couple of inconsequential tunes. But there it is. I would like to report that this was a Harrison Ford / George Lucas fable, in which the repairman is discovered by the producer and goes forth to achieve Major Stardom. But the truth is that I have no idea what happened to Eck Kynor. I assume he's dead. So it goes. The Many Moods of Murry Wilson was posted on Bandcamp by Carl and the Passions of Hawthorne, CA, who I assume is not Carl Wilson, since Carl definitely passed away many years ago. But who knows?