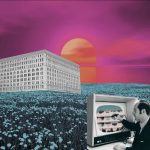 "Apollo," by Atomic Cafe, is all about guitars riffing chords mixed high and tight. Sometimes that's a lot; sometimes good chords are all you need. There's plenty of good ones here. And if you think a song needs to have, you know, more than just good chords, try telling that to the ghost of Bo Diddley when he shows up in your bedroom tonight to straighten you out. Be sure to video the encounter and put it on Facebook.
"Apollo" opens with the aforementioned chords ringing wide and easy before shifting into driving mode. There's plenty of air in the track; these aren't your father's power chords. Maybe your grandfather's. Behind it all runs a subtle lead line that eventually steps out front for a solo of beautiful simplicity. The vocal won't change the world, but no one is asking it to. All that's really required is for the melody to stick in our heads, which is accomplished nicely. You'll hit the the replay button as soon as "Apollo" lands, and it will still be in your head tonight when Bo Diddley shows up.
Regular readers of this blog (both of them if we include the cat) know that, as a Certified Music Journalist, I am obligated to make at least one Obscure Reference in each review. Our Obscure Reference for Today: the guitars and vocals in "Apollo" bring to mind New Madrid's "Country Moon Pt. I" from their debut 2012 album, Yardboat. We featured Yardboat a few months after its release, and I'm positive that our coverage is the reason New Madrid is now a household word. A similar fate no doubt awaits Atomic Cafe.
Atomic Cafe, based in Minneapolis, comprises Harrison Miles (vocals, guitar, drums, bass), Nathaniel Essma (guitar), Ben Lohrding (drums), Sean Latter (bass), and Ben Engen (keyboard, percussion). The band self-describes as a "garage-rock/psychedelic band from Minnesota." I'd suggest that they are better than most of the garage rock outfits that I've heard. They're definitely good enough to practice in that building your brother-in-law owns out on I-35 near Richfield that used to be a snowmobile dealership. "Apollo" is from their new five-song EP, Further, due for release June 29.
You can support deserving independent musicians like Atomic Cafe by visiting their Bandcamp page, listening to their songs, and downloading your favorite tracks. And be sure to follow Atomic Cafe on Facebook, Instagram, and Twitter.