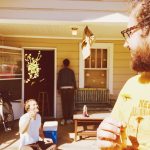 "Wasted," by Loved Ones, is a cool lo-fi affair combining elements of country, dream pop, post rock, and surf. If that sounds like a real mess, well, you might be right. You're probably right. But it's a very interesting and adventurous mess.
"Wasted" springs to life with a solo bass, soon joined by a snare that has "Property of Kenny Buttrey" stamped on the head. The guitar covers a wide swath of stylistic real estate, charging at the end into full Surf Mode. The real hero here is the vocalist, delivering lines that could have been lifted from a country ballad with a dynamic strength that sounds a bit like Ryan Adams on the days when the speed outpaced the depressives.
As a Certified Music Journalist, I am required to inject at least one Obscure Reference into each review, and here it is: the guy in the foreground of the album cover is wearing a Neil Young Zuma T-shirt. I used to blast "Barstool Blues" every morning just to annoy my roommate, who accused me of only liking singers who can't actually sing. Not true: I like Loved Ones' singer, and he seems to be doing pretty well for himself.
I don't know anything about Loved Ones, other than that they are from Asheville, NC and are probably a three-piece band. There's also a Loved Ones in West Kirby, UK and The Loved Ones in Philadelphia as well as the defunct The Loved Ones in Australia. I assume this is a different lot. Whoever they are, "Wasted" is from their new three-track EP, Goldenrod Demo. It's strictly a DIY project and, as the name implies, lacks polish. But the songwriting and vocal talent, and the creativity, are evident. It's worth a listen or two or three.
You can support deserving independent musicians like Loved Ones by visiting their Bandcamp page, listening to their songs, and downloading your favorite tracks. Now this is where I usually say, "And be sure to follow … on Facebook." But I don't have any contacts for Loved Ones. Oh well. Just listen to their music; it will all work out in the end.