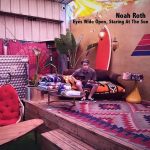 Regular readers of this blog (both of them, if we include the cat) are familiar with the musical genre known as Underwear Music. For those of you keeping score at home, Underwear Music is music that a person writes and records while sitting on a bed in their underwear following the unsatisfactory conclusion of a Relationship. Like all forms of music, there are sub-genres and micro-genres of Underwear Music. For example, there is Pre-Breakup Underwear Music, which celebrates the incipient breakup (or, more typically, the incipient Getting Dumped) that everyone can see coming from half a mile out, like a hundred-foot-tall bowling ball steamrolling toward you down the gravel path of your heart. With "Sweetheart," Dog Mom created Next Level Underwear Music, a micro-genre of Pre-Breakup Underwear Music that not only anticipates the breakup, but potentially causes the breakup. And Steven Lipsticks reports that with "Stay Awake, No More Dreams" he created Euro-Underwear Music, a more civilized variety in which he kept his pants on during the recording process.
Which brings us to "800 Miles" and "Only A Phone Call Away" by Noah Roth, two fine examples of LDR Underwear Music, songs that describe the heartache and misery that schleps along beside you 24/7 like a giant, stinking slug whilst you drag yourself through that miasmic chimera known as the Long Distance Relationship. While some will argue that LDR is not true Underwear Music, that's like saying that Louis Armstrong and Miles Davis should not appear in the same Ken Burns documentary. Besides, I've already invested 285 words into the premise that these songs are Underwear Music, and I'm not about to turn back now.
Whatever you call them, these are excellent, well-written songs. Like many of the tracks that are featured in these virtual pages, the performance isn't perfect (Underwear Music, by virtue of its bedroom origins, rarely is). But I'll put the songwriting, by Noah Roth and Asher White, up against anyone's. As a Certified Music Journalist I am obligated to inject at least one Obscure Reference into each review. Otherwise, someone will come to my house and yank that coveted Music Press card from the hatband of my fedora. So we'll say that "Only A Phone Call Away" brings to mind the slightly campy work of Christopher James on his cult-classic album In the Month of May.
"800 Miles" and "Only A Phone Call Away" appear on Noah Roth's 2016 album Eyes Wide Open, Staring at the Sun. Noah came to our attention when his noise rocker, "Beater," appeared on Sematary Forever, a compilation album released last week by Sematary Records. Eyes Wide Open, Staring at the Sun is a rather remarkable album, recorded when Noah was seventeen. It's always slightly annoying when young people are so talented.
You can support deserving independent musicians like Noah Roth by visiting his Bandcamp page, listening to his songs, and downloading your favorite tracks. He has a ton of music on there; surely you can find something you like (and don't call me Shirley). And be sure to follow Noah on Facebook, Instagram, and Twitter.