Rowan Kerrick – I Can't Make You Love Me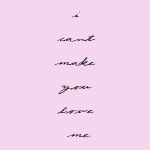 So I'm in my office listening to "I Can't Make You Love Me" by Rowan Kerrick. And my wife comes in from the kitchen and asks, somewhat incredulously, "Is this a Nobody?" Now, first of all, I don't write about Nobodies. I write about great musicians of whom the world is largely unaware. But the implication underlying the question is that someone with Rowan Kerrick's tremendous voice – which my wife could detect from the kitchen over the buzzing exhaust fan and a sizzling skilletfull of corn fritters frying in fatback (actually, she was baking a nourishing chicken pot pie, but Truth is no stranger to Fiction) – is surely known to a greater portion of the world than are many of the artists we feature, whose fame currently extends slightly beyond their bedroom closet. In other words, Rowan Kerrick has a voice that will knock the stuffing out of your Christmas goose.
With her interpretation of "I Can't Make You Love Me," recorded live at Your Mom's House in Denver, Rowan Kerrick re-imagines the sorta schmaltzy Bonnie Raitt hit into an edgy, sultry late-night text, the last one that is sent before deleting the contact and blocking all replies. Except the next day you unblock the number and ponder what you missed.
Describing "I Can't Make You Love Me" on her Facebook page, Rowan writes, "I never understood this song until I experienced my first real heart break. This song taught me that a good song doesn't need to be complicated or intricate or provocative or even clever to be good. It just needs to be honest. And that's all I ever want to be as a writer, singer, artist, and person."
As a Certified Music Journalist, I am obligated to inject at least one Obscure Reference into each review. This one perhaps is not that obscure: it's a safe bet that Rowan learned to play guitar by listening to Neil Young records.
We previously mentioned Rowan in our News of the World feature, four years and a lifetime ago. Our assessment then: "In the era of wispy-voiced Joni-Mitchell-Meets-Nora-Jones female singers, Rowan stands out as a throwback, more old-style belter than New Age whisperer." And we said Bones, her album released in April 2014, "comprises 12 tracks, all very good, all cut through with the hard edge of just-beyond-heartache." I'm going to double down on that evaluation. In light of "I Can't Make You Love Me," it's obvious that I got it right (good job, Me).
"I Can't Make You Love Me" is a precursor to the July release of Rowan Kerrick's new EP, Foolish, produced by Justin Gerrish. A single, "Your Song," will drop this coming Friday. A record release show and party will be held at The Bakery in Denver on Friday, July 6.
You can support deserving independent musicians like Rowan Kerrick by visiting her Bandcamp page, listening to her songs, and downloading your favorite tracks. And be sure to visit Rowan's website, and follow her on Facebook, Twitter, and Instagram.
Bonus Track: "Needle and Thread," a fantastic track from Bones. This one will send chills down your spine.