Wild Light Sound – Low Grey Light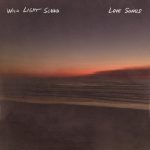 "Low Grey Light," by Wild Light Sound, is a beautiful, understated song about chasing the sun, or chasing the warmth in a relationship. You felt it; it was here. It must have gone somewhere. Let's go there, wherever there is.
The simplicity of the arrangement mirrors the uncomplexity of the emotions being expressed. Above an acoustic guitar and rhythm section, a pair of slide guitars meander like lovers who are neither dancing nor running, just living and hoping. At 2:37, the track is just short of the two-minutes-forty-two required to be the Perfect Pop Song. Why play more? Songwriter Nick Nicholson says everything he needs to say with a pair of four-line verses and a three-line chorus. Besides, you'll be hitting the replay button several times to enjoy the great slide work.
As a Certified Music Journalist, I am required to inject at least one Obscure Reference into each review and here it is: the gentle slide guitar lines on "Low Grey Light" bring to mind George Harrison's slide work on Alvin Lee and Mylon LeFevre's version of Harrison's own "So Sad (No Love of His Own)," from On the Road to Freedom. Full disclosure: I am not a Certified Music Journalist and "So Sad (No Love of His Own)" is my go-to reference whenever I encounter an exceptionally evocative slide guitar.
Wild Light Sound is Nick Nicholson (vocals, guitars, bass, percussion) with some help from Kyle Everett (guitar, bass, piano, drums) and Trevor Berecek (bass). "Low Grey Light" is from the project's new twelve-track album, Love Songs. The "official" single from the album is the Byrds-meet-Petty (a reversal of the usual order) rocker "Pure Gold." It's a good song; I prefer "Low Grey Light." But, hey, what do I know? I'm the guy who saw the first advertisement for an iPod and said, "Why do I need that? I already have a Walkman."
Love Songs has been released by Robotboy Records of Eugene, Oregon. On the label's website, we learn that "Wild Light Sound is the creation of frontman and song writer Nick Nicholson, a Virginia transplant who moved to Oregon in 2010. Their music touches on themes of nature, introspection, joy and, love. Nick's songs are full of an energetic peacefulness, if such a thing exists, that is somehow calm and playful at the same time. I guess what we're trying to say is that listening to Wild Light Sound is like surfing at dawn: peaceful but invigorating." I second that emotion.
You can support deserving independent musicians like Wild Light Sound by visiting their Bandcamp page, listening to their songs, and downloading your favorite tracks. And be sure to follow Wild Light Sound on Facebook and Instagram.
And keep up with other releases from Robotboy Records by visiting their website, and by following the label on Facebook and Twitter.