The Pink Stones – Blueberry Dream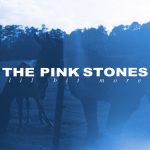 "Blueberry Dream," by The Pink Stones, meanders a vaguely-marked path scratched into the Georgia dust between the farms of Country, Soul, and Dream Pop. If I had to play the Genre Game (which I don't have to but will anyway), I would dub this Southern Shoegaze. I know; it's a ridiculous name. It's really just good Southern Music. Think the Allman Brothers' "Blue Sky" with less sky and more blue. Or is it the other way around?
The track eases to life with a slowly strummed acoustic guitar, joined by a thick lead guitar, and underlain with a soulful keyboard and rhythm section. The guitar lines are the star of this show. There's enough space between the phrases to put a car up on blocks and then forget about it because you have something better to do. Like sitting under a tree thinking about … heck, I dunno what you're thinking about. Blueberries, I guess. Listen for the false ending.
The Pink Stones are Hunter Pinkston (vocals, guitars, percussion, lap steel, harmonica) and his friends: Will Anderson (keyboards, vocals), Ryan Lewis (theremin), Jack Colclough (percussion), and Curtis Callis (percussion). The band is based in Athens, Georgia.
"Blueberry Dream" is from The Pink Stones' new four-song EP, Lil Bit More. The EP is described as "demo songs for an upcoming LP with some covers thrown in too…" The EP was recorded and mixed in Athens by Will Anderson. As a Certified Music Journalist, I'm obligated to provide at least one Obscure Reference with each review. So here it is: the songs on Lil Bit More bring to mind The Prettiest Shade of Blue, the last album by The Loomis Fargo Gang, a probably-defunct band from Norfolk, Virginia, that my cat reviewed back in 2013. References rarely get more obscure than that unless you write for Pitchfork.
You can support deserving independent musicians like The Pink Stones by visiting their Bandcamp page, listening to their songs, and downloading your favorite tracks. I recommend the Neil Youngish "Miss Wind Turbine" from the 2017 EP, Just Some Songs. And be sure to follow The Pink Stones on Facebook and Instagram. And follow Hunter Pinkston on Twitter.
If you're lucky enough to be in Atlanta next Sunday night, June 17, catch The Pink Stones at The Bakery with Supercrush, Big Bite, Bad Moods, and Harmacy.