Jay Farrar and Ben Gibbard – Absolutely Sweet Marie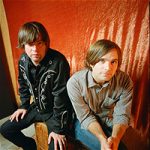 Today's feature should be required listening – or viewing – for anyone who wants to be a musician, or for anyone who just loves music: Jay Farrar and Ben Gibbard with a cover of Bob Dylan's "Absolutely Sweet Marie."
I love the song's dramatic arc. It starts off as a standard folkie track, with a strummed acoustic guitar. Then it builds. And builds some more. And ends up as a genuine cooker. This is how you construct and present a song. And this is what Rock Music should sound like. Notice that Jay forgets his harmonica, and has to pause to pick it up and put it around his neck. Jay would probably deny it, but he appears to smile at the lapse. But when he turns back to the audience, he's back in character. And notice that when Jay stops strumming to deal with the harmonica, Ben picks up the slack for a few bars.
"Absolutely Sweet Marie," like seemingly every song Bob Dylan recorded, has been covered and recovered by many artists over the years, most famously by Jason and the Scorchers (for whose version I never cared). It is amazing how many different interpretations can be derived from a single Dylan song. Bob himself is rarely faithful to the recorded versions of his own songs. As Bob told me one night over beers at an after hours club in Soho, his recorded versions are merely templates, not finished products. The song itself is never finished; it evolves, grows, and develops each time it is performed. Full disclosure: I have never met Bob Dylan.
The Jay Farrar / Ben Gibbard video appears on the YouTube channel of Tim Hand. It was recorded October 23, 2009 at the El Rey Theatre (in Los Angeles). Tim notes that this was "#15 song at show (2nd song encore)." Amazingly, the YouTube comments are not 100% positive; one reviewer whined, "I probably would've walked out. This is an embarrassing cover and an insult to the original song." Really? I don't know what some people want out of Life.
Now in a strange twist: YouTube user Albumania took the audio from George Harrison's performance of "Absolutely Sweet Marie" at Bob Dylan's 30th Anniversary Concert, synced it up with footage from Concert for Bangladesh, and threw in clips of John Lennon and Paul McCartney. I think the result is fairly amazing. Albumania tells potential viewers, "The video is a fake, but it works, so don't get hung up about it!" But, as is usual with the Winternet, several commenters don't get the joke. For better or worse, here it is! Enjoy!
(And for those of you keeping score at home, the guys behind George are Klaus Voorman and Jesse Ed Davis.)