Christopher James – So Long and Goodbye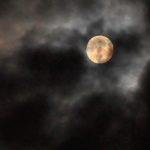 When I was a small child I had a great idea. I wanted to transform our family's Buick into an airplane by nailing planks to the car doors. As far as I could tell, the only thing separating our car from an airplane was a lack of wings, and a 2×4 protruding from each side should get the old clunker off the ground nicely. I had the foresight to present my proposal to my mom before rushing into the implementation phase, and Mom convinced me that my plan wasn't feasible, not because the car wouldn't fly – as far as I'm concerned, that hypothesis remains untested – but because the winged vehicle wouldn't fit into a parking space.
Fast forward several years and I have another great idea: to adapt Christopher James' new album, In the Month of May, into a musical entitled Mount Kisco Moon, a dark comedy about a superhero who lives in Mount Kisco, New York. He's an entirely local phenomenon, as his powers are derived from the moon over Mount Kisco, and if he ever leaves town he will permanently lose those powers. I'm not sure what his superpowers are, but I'm pretty sure they include Flight and perhaps Texting.
Our story's conflict arises as our hero considers leaving Mount Kisco – and losing his powers – to pursue his Passion. He claims he's "just not that into the whole superhero thing" and it's difficult to make a living in Mount Kisco, what with paying off student loans and all. He works part time as an illustrator at the local newspaper where he doesn't even bother to maintain a secret identity. He tried charging people for his super services – primarily plucking cats out of trees and saving people who fall into sinkholes – but gave that up after his best friend told him it was "a real dick move" and the local paper, the same one at which he works, published an editorial in which he was dubbed The Man of Steal. His editor ordered him to illustrate the piece with a drawing of himself sleeping on a park bench while an elementary school burns the background.
Our story opens with the ghostly stage illuminated by a full moon shining on the town's landmark statue of Chief Kisco. The statue turns to the audience (it isn't a statue!) and says, "Oh, hello there." We had hoped to cast Morgan Freeman as the Our Town-ian narrator, but someone from Elizabeth Warren's family may be a less controversial choice. The curtain falls as our hero (spoiler alert!) departs Mount Kisco to pursue his Passion. As of this writing, his Passion is undetermined. Perhaps it will remain an enigma, the Rosebud of Mount Kisco Moon.
Cue the finale…
"So Long and Goodbye" is from Christopher James' aforementioned album, In the Month of May, an excellent collection from which I have now managed to milk three blog posts. We previously featured "Dead Guy Tour," and "Mount Kisco Moon," the title track of our musical which is sure to be a hit if we can ever put together the financing. Chris, aka the guitarist and singer with Art School Dropouts, attempted to record and release one song a day in the month of May, and compile them into the album. As of May 30 he has seventeen songs and none of them suck.
You can support deserving independent musicians who don't suck, like Christopher James (this is why we use commas), by visiting his Bandcamp page, listening to his songs, and downloading your favorite tracks. And be sure to follow Chris on Facebook and Instagram. And while you're at it, follow Art School Dropouts on Bandcamp, Facebook, and Instagram.
Photograph of the moon over Mount Kisco, May 2012, by Daniel Baitch. Please visit his website.