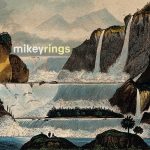 "Where to Begin," by Mikey, roams the outfield between folk and indie pop, with a twinge of country at the edge of the grass. That's a good place to play, and the song has that classic sound, that I've felt this before vibe, that always marks the best music.
The track eases to life with an organ – probably a synthesizer these days – that recalls the opening of Syd Barrett's "Love Song" (as a Certified Music Journalist, I'm obligated to inject at least one Obscure Reference into every review), followed by those guitars that are welcome anywhere, anytime. The real strength of "Where to Begin" is the vocal arrangement, with an understated but well-delivered lead, and background voices that appreciate the definition of "background." There is a subtle honesty at play here that I appreciate.
"Where to Begin" is from Rings, Mikey's new ten-song debut album. It's a solid collection, with multiple Song of the Day possibilities. "Coming Down," "Look Me in the Eye," the acoustic "Is There a Wind," and "Could've Been Anyone" received serious consideration. The vocals on "Where to Begin" put it over the top, making it my choice for Best Song on the Album.
Mikey is Michael Avishay, who is credited with guitar, vocals, keyboards, bass guitar, and drum programming. Rob Carrington provided additional bass guitar, guitar, and drums. On his Bandcamp page Mikey notes that "all songs were written and recorded in various apartments in Brooklyn" and "proceeds from digital sales will go towards remastering and digital distribution." Mikey is (or was?) also a member of the Brooklyn-based band, Kew. For those of you keeping score at home, this is New York Mikey. There are at least nine Mikey's on Bandcamp, scattered across the globe from Germany to California.
You can support deserving independent musicians like Mikey by visiting his Bandcamp page, listening to his songs, and downloading your favorite tracks. Or download the entire album; I'm sure Mikey won't mind. And be sure to follow Mikey on Twitter, Facebook, Instagram, and Buzzfeed.