Beach Bait – Rock and Roll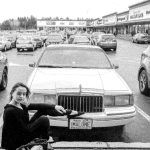 "Rock and Roll," by Beach Bait, is a surfy ballad, full of silences, the song played at the end of a summer night when the adrenaline has faded and you walk down the beach away from the fire and you just want to sit at the edge of the tide with your girlfriend and listen to the waves and wonder if you will ever see each other again after Labor Day.
The song opens quietly, with just voice and guitar. The arrangement builds, adding more vocals and a simmering organ deep in the background. The star of the show is the lead vocal. This singer is The Real Thing: he has the range and dynamics to sell this slow cooker of a track. I'll bet "Rock and Roll" brings down the house when it's performed live.
Beach Bait is based in Halifax, Nova Scotia and that's pretty much all I know about them. I don't even know who's in the band. I'm guessing they've been around awhile, since they seem to know what they're doing (I can usually tell about these things). They know how to write and arrange a song, which is a good indicator.
"Rock and Roll" is from Beach Bait's new self-named eight-song album. If you ask me (which nobody did), it's the best song on the album. That isn't to say that the other songs aren't great tracks. I had multiple choices for Song of the Day including "There She Was," "Hold Me Close," and "Meet Me in the Middle." The vocal on the latter was a standout, showing plenty of power and range.
You can support deserving independent musicians like Beach Bait by visiting their Bandcamp page, listening to their songs, and downloading your favorite tracks. And be sure to follow Beach Bait on Facebook, Instagram, and Twitter.