Exotic Doctors – Wish I Had Something to Hide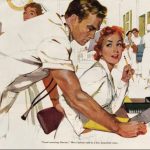 "Wish I Had Something to Hide," by Exotic Doctors, is a chugging chunk of old school pop and rock, a throwback to the days when melodies, harmonies, and power chords were all the rage. The track has 1979 scrawled across its face.
"Wish I Had Something to Hide" opens with guitars mixed low and tight, not the jangly, loosely-strummed chords that haunt the reams of today's indie pop. After hearing the multi-tracked vocals and harmonies, we realize this isn't Exotic Doctors' first rodeo. They obviously know how to write a song, and can find their way around a studio.
Exotic Doctors, based in Nashville, is (are?) Hunt Adams (guitar), Jerry Campbell (vocals and guitar), Ryan Ervin (bass), and Michael Page (drums). As I suspected, these guys didn't start cranking out the tunes yesterday evening in somebody's mom's basement. At least three (Hunt, Jerry, and Ryan) were members of Spider Virus, a band that put out a few well-received albums around twenty years ago. The Bandcamp page for A Tribute to Machines: The Music of Jerry Campbell features an extensive write-up on Jerry and his music. These guys are more well-known than the typical Song of the Day perpetrator. We usually feature a mega-talented artist who is voluntarily chained up in a bedroom, or the regionally-known band with 300 Facebook followers. I don't think Exotic Doctors has a Facebook page. Jerry Campbell is on Facebook, but hasn't posted since 2014. Like I said: these guys are Old School.
"Wish I Had Something to Hide" is from Exotic Doctors' ten-song album, Prescriptions. It's a solid collection, offering multiple Song of the Day possibilities. "Megan" and "I'll Never Really Be Dead" are especially noteworthy. All songs on the album were written by Jerry Campbell with the exception of "Impressed," which was written by Charlie Sexton.
You can support deserving independent musicians like Exotic Doctors by visiting their Bandcamp page, listening to their songs, and downloading your favorite tracks. And while you're there, check out the music of Jerry Campbell, and an extensive set of releases and demos by Spider Virus.
Note: The album cover for Prescriptions is a Saturday Evening Post illustration by Robert Meyers, from 1954.