Songs: Ohia – Whip Poor Will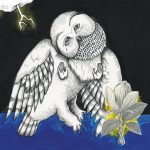 Excerpt from "A Miscellany of Characters That Will Not Appear" by John Cheever
The pretty girl at the Princeton-Dartmouth Rugby game. She wandered up and down behind the crowd that was ranged along the foul line. She seemed to have no date, no particular companion but to be known to everyone. Everyone called her name, everyone was happy to see her, and, as she stopped to speak with friends, one man put his hand flat on the small of her back, and at this touch (in spite of the fine weather and the green of the playing field) a dark and thoughtful look came over his face, as if he felt immortal longings. Her hair was a fine dark gold, and she pulled a curl down over her eyes and peered through it. Her nose was a little too quick, but the effect was sensual and aristocratic, her arms and legs were round and fine but not at all womanly, and she squinted her violet eyes. It was the first half, there was no score, and Dartmouth kicked the ball offside. It was a muffed kick, and it went directly into her arms. The catch was graceful; she seemed to have been chosen to receive the ball and stood there for a second, smiling, bowing, observed by everyone, before she tossed it charmingly and clumsily back into play. There was some applause. Then everyone turned their attention from her back to the field, and a second later she dropped to her knees, covering her face with her hands, recoiling violently from the excitement. She seemed very shy. Someone opened a can of beer and passed it to her, and she stood and wandered again along the foul line and out of the pages of my novel because I never saw her again.
Songs: Ohia was Jason Molina, with help from a diffuse group of friends. "Whip Poor Will" is from the group's seventh and final album, Magnolia Electric Co., released in 2003. Molina released nine more albums, under his own name and as the band Magnolia Electric Co., before dying of alcohol-induced organ failure in 2013. On "Whip Poor Will," Molina is accompanied by Jennie Benford on vocal and mandolin.
"Whip Poor Will" was not included in the original release of Magnolia Electric Co. When a two-LP deluxe edition was reissued in November, 2013, the first 3000 copies contained a 10″ single with "The Big Game Is Every Night" on the A-side and "Whip Poor Will" on the B-side. Both songs were included at the end of the 2-CD version.
The music of Songs: Ohia, Magnolia Electric Co., and Jason Molina is available on Bandcamp.