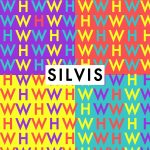 "WWH" is a great wall of funky fun from SILVIS. The band pulls out all the stops: multiple guitars, plenty of harmonies, and a mess of saxophone tracks. If you're in a bad mood, this is the song to which you should listen. I mean, who doesn't like a saxophone?
"WWH" stands for When We're High. I don't know what SILVIS stands for, if it even stands for anything, or why I have to capitalize it. Some things should just be accepted rather than questioned or intellectualized. For example: "WWH." It seems to be about, you know, getting high and having fun, mostly in the outdoors. I don't think there is a deeper meaning here, nor do we need one. Just enjoy the good tune.
The star of this show is the melody. That's what makes "WWH" special, and it shows some genuine talent in the songwriting department. The award for Best Supporting Actor goes to the saxophone. Once a staple of the rock band, now it rarely makes an appearance outside the hipster jazz club. I suppose it's easier to use a keyboard, but a keyboard just doesn't have the same organic dynamics. If God had meant for these parts to be played on a keyboard, he wouldn't have given us mouths. You can quote me on that, but spell my name correctly in the footnote.
SILVIS is Luke Johnson (lead vocals, guitar), Matt Johnson (bass, vocals), Chuck Worthy (saxophone, funk, and a thumbs-up from Reverb Raccoon), and Nick Allen (drumz). The band is based in Columbus, Ohio. Among their influences they list Paul Simon, Pinegrove, Vampire Weekend, and Catfish and the Bottlemen. On their Facebook page they describe their interests as "hearing you sing what we sing." Well then, SILVIS should come over to my place because they could hear me sing the chorus of "WWH." It's already stuck in my head after a handful of listens. But if you guys come over, do me a favor and phone ahead. I'd like to clean out the cat's litter box before you arrive.
You can support deserving independent musicians like SILVIS by visiting their Bandcamp page, listening to their songs, and downloading your favorite tracks. In addition to "WWH," they have a five-song EP, Little Brothers, that was released last year. And be sure to follow SILVIS on Facebook, Twitter, Instagram, and YouTube.