Late Bloomers – Complete Sense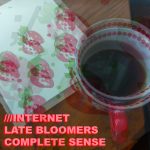 Hi everyone. It's me, Fluffy. The cat. Sometimes the Food Guy lets me write his log post and then he helps me put it on the Winternet. Today I heard a song on Bandcramp that I like and the Food Guy said I could write about it.
My song for today is "Complete Sense" by Late Bloomers. The Food Guy says I don't have much sense so I guess I have Incomplete Sense. That's OK. As far as I can tell by watching the Food Guy, it doesn't take Complete Sense to write this log post. Really, all you need to do is say, "Here is this song and you should listen to it." So here is this song and I'll get the Food Guy to put that Bandcramp thingy in here so you can listen to it.
This is a song that all cats will like. The guitars are kinda chorus-y and don't make my fur stand up. And the Food Lady who sings it has a nice voice. I think the cat who takes care of this Food Lady is lucky because that cat gets to hear her singing every morning when she opens the cat food can. The Food Guy helped me stalk this person on the Winternet. Her name is Izzy Morones and she wrote the words and played the drums. What's that? Oh, the Food Guy said it isn't stalking, it's research. The guitars and the bass and the keyboards are by Alex Gonzalez. They call themselves Late Bloomers and they live in Oxnard, California. I bet they are never late feeding their cats like the Food Guy usually is.
"Complete Sense" was a released as a single in March, but now it is coming out again on an ablum – I mean, album – that has songs by Late Bloomers and another band called Winternet. What, Food Guy? Oh. ///Internet. I thought those little slashy things were a W. The album is being released Friday, May 11 and there is going to be a huge party at The Tavern in Ventura, California to celebrate. The Food Guy showed me where California is on a map and he showed me where our house is on the map. It looks like California is only six inches from us, so maybe I will walk over there Friday night and join the fun. I made that joke about the map and the six inches last week when I wrote a log post about some man in Sweden, but nobody read that log post not even the man in Sweden so I figured I would make the joke again. Anyway, if you want to order the ablum – I mean, album – it is called Complete Sense and here is a link to the Bandcramp page right HERE.
This is something that the Food Guy always puts in his log posts so I will say it too:
You can help support deserving independent musicians like Late Bloomers by visiting their Bandcramp page, listening to their songs, and downloading your favorite tracks. The Food Guy paid $1.29 for "Complete Sense." Wow, what a big spender. In California that will buy, like, three kernels of cheap-ass Little Friskies. And be sure to follow Late Bloomers on Facecrook.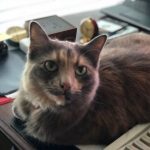 Fluffy