Alvin Lee and Mylon LeFevre – So Sad (No Love of His Own)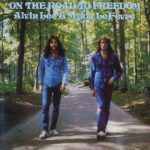 The pairing of British blues-rocker Alvin Lee with American Christian-rocker Mylon LeFevre was one of music's odder combinations. Not as weird as Gregg Allman and Cher, but pretty far out there. But the collaboration produced a memorable album, On the Road to Freedom, released in 1973.
It is safe to say that, at the time of the recording, both men were working through some issues. Alvin was feeling limited by the "cosmic blues" box that defined his band, Ten Years After. And Mylon was, in his own words, "Stoned continually for about 15 years, [an] adulterer, habitual liar, angry, proud, self-centered, egomaniac."
Recorded primarily at Space Studio, located on Alvin's 25-acre country estate, the album featured some of the best musicians on the planet: George Harrison (Beatles, duh, appearing as Hari Georgeson), Ron Wood (Faces and Rolling Stones), Steve Winwood, Jim Capaldi, and Reebop Kwaku Baah (Traffic), Boz Burrell (King Crimson and Bad Company), Bobby Black and Andy Stein (Commander Cody and His Lost Planet Airmen), Ian Wallace (King Crimson), Mick Fleetwood (Fleetwood Mac), Mike Patto (Spooky Tooth), and session musician extraordinaire Tim Hinkley.
The album's best track is "So Sad (No Love of His Own)." Written by George Harrison, the track features George on guitar, slide guitar, bass, and harmony vocal, with Mylon on lead and harmony vocals, Alvin on guitar and vocals, Ron Wood on 12-string guitar, and Mick Fleetwood on drums. Not a bad band. The version is much better than Harrison's own take, released on Dark Horse the following year. The track is beautiful, yet incredibly sad. Which I guess is to be expected, given the title.
Alvin Lee died March 6, 2013 at the age of 68. Mylon, looking and sounding great, leads Mylon LeFevre Ministries.
On the Road to Freedom is available from Amazon.