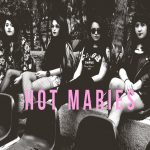 This is el Cinco de Mayo. And at the risk of being accused of the dreaded Cultural Appropriation, we're going to join the celebration by playing some cool retro surfy rock from Ciudad de México: "Oh Sweet" by Hot Maries. If there's anyone at your party who isn't dancing, slip this track into the mix and watch the fun as Nana tries to shake her ancient booty.
"Oh Sweet" is exactly what a good pop song should be: thumping drums and twangy guitars, topped with a great vocal by Kennyi Lozbec. This person can really belt it out, adding an extra twist on the end of each phrase that lends "Oh Sweet" a specialness (is that a word?) that makes the song sizzle.
As a Certified Music Journalist, I'm obligated to make at least one Obscure Reference in each review, and this one is about as obscure as it gets. The opening of "Oh Sweet" brings to mind Plastic Mastery's version of "Shaggs Own Thing," from the tribute album, Better Than The Beatles. Full disclosure: I'm not a Certified Music Journalist, and "Oh Sweet" sounds nothing like "Shaggs Own Thing."
"Oh Sweet" is from Hot Maries' new self-named five-track EP. I think this is a preview of an LP that will be released in August; I'm not sure. At any rate, all five tracks are solid efforts. If there is more released in the future, I'll be happy to listen to it.
Hot Maries is (are?) Kennyi Lozbec (vocals and guitar), Michelle Pantoja (drums), Marleen Miranda  (bass), and Ellie Von (guitar). They describe themselves as "a surf pop band from the CDMX."
You can support deserving independent musicians like Hot Maries by visiting their Bandcamp page, listening to their songs, and downloading your favorite tracks. Besides "Oh Sweet," I recommend "Don't Wanna Think." Sounds like what would be blasting from the jukebox of a dystopian drive-in from the 50's. The 2050's, that is. What the heck, let's listen to it…
Happy Cinco de Mayo, everyone. Enjoy the music and be sure to follow Hot Maries on Facebook, Instagram and Twitter.