Matty Sheets – Rough Times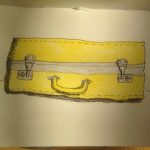 Hey, dog, how was your day?
Rough, rough! 
"Rough Times," by Matty Sheets, is about… well, I probably don't have to tell you what it's about. We start out camping behind a deli, progress to sleeping on cardboard, and end up in the slammer. Spoiler alert: rough times provide abundant opportunities for personal growth.
"Rough Times" is a cool, Rolling Stones-esque chunk of stripped down rock. A couple of guitars – maybe an extra after the choruses – bass, drums, double-tracked vocal: a winning formula for sixty-plus years. The instrumentation is excellent. The voice is, ah, refreshingly unencumbered by refinement.
"Rough Times" is from Matty Sheets' new seventeen-track album, Wolfs and Sheeeps (hey, that's how it's spelled; don't @ me). All songs were written by Matty, who I'm guessing played all of the instruments.
Matty Sheets describes himself as "a storyteller, musician, artist, writer, multi-instrumentalist, and band mate." That last one bears some looking-into. Let's see, besides his solo work, Matty is a songcrafter, guitarist, singer, drum machine, and manager with Lightweight; a storyteller, singer, and guitarist with Magpie Thief; and a drummer with Laila Nur & The Love Riot (I stole all of that from Facebook). Sounds like he's too busy to have many rough times. Besides being an apparently in-demand musician, Matty Sheets is also an excellent artist. You can admire several of his sketches on his website.
You can support deserving independent musicians like Matty Sheets by visiting his Bandcamp page, listening to his songs, and downloading your favorite tracks. On his Facebook page Matty notes, "Pay whatever you want, for any of this music. And if you don't want to pay anything, just leave your email address so I can add you to my list." He doesn't say if that's his Contact List or his Shit List that you'll be added to if you don't pay. But, c'mon, there's seventeen tracks on this album alone. Surely you can find one that you're willing to cough up some coin for. Besides "Rough Times," I recommend "Big Soda" (featuring prison-learned rapping) and "Mystery Road #1 and 3." And be sure to follow Matty of Twitter.