Allt är musik – Rädda mig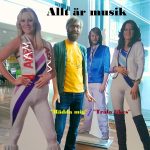 Hej. Detta är Fluffy. Katten. Sometimes I write the Food Guy's log post when he is busy or just doesn't feel like playing on the Winternet. Tonight he gave me an Assignment. An Assignment is when someone tells you what to write about and you have to write about it even if you don't want to.
The Food Guy gave me an Assignment to write about "Rädda mig" by . At first I thought the Food Guy was pulling my tail because those words don't even look like words. I searched all over the Food Guy's keyboard and I couldn't find an "a" with two dots over the top. But then the Food Guy showed me something called Goober Translate and I learned that these words are in a language called Swedish. And I learned that "Rädda mig" means Save me and "Allt är musik" means Everything is music. The Food Guy said that Swedish is what they speak in a country called Sweden, which I could have figured out on my own but thanks anyway, Food Guy. He showed me Sweden on a map. It's only a few inches from our home in Houston, so maybe I can walk over there soon.
I like "Rädda mig" even though I don't understand the words. I imagine it is a song about a Swedish cat who is in an animal shelter and when people come by looking for a pet the cat says, "Rädda mig!" I never lived in a shelter, but I lived in a cardboard box on the street and the Food Guy rädda'd me. Now I get to live in a good home and eat tuna.
And here we find that "Rädda mig" is no longer on Bandcamp. Thanks, Allt är musik, for screwing up my blog post. No soup for you, Allt är musik.
On the Facecrook page for Allt är musik it says, "Allt är musik är Andreas Sjögren är dagbokspop är alla låtar inspelade fem minuter efter tillkomst är musik." I put that into Goober Translate and it came back as "Everything is music is Andreas Sjögren's diary pop is all the songs recorded five minutes after admission is music." Hmm. Maybe Goober Translate needs an adjustment.
Allt är musik has many songs on Bandcramp that you can listen to and buy. The Food Guy paid 11 Swedish Krona for "Rädda mig," which is, like, one can of Purina Pro Plan tuna. Allt är musik also has songs on Spotafly. And be sure to follow him or them or it or whatever on Facecrook.
OK I think I have finished my Assignment.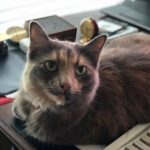 Fluffy