Affordable Convertible – Hawaii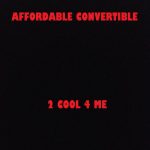 "Hawaii," by Affordable Convertible, is a fine chunk of emo pop punk. Or whatever genre in which you wish to stick it. The track has the self-reflection of emo and the power chords of punk, wrapped up by a pop sensibility that rounds off the rough edges.
"Hawaii" kicks off with a keyboard hook that doubles as the song's melody. The tune is minimal, but well-delivered. The singer isn't – I dunno, name a great punk singer – Billie Joe Armstrong? Whatever. He's on-pitch and makes good use of multi-tracking to fill out the sound. In a Reddit post, the person behind Affordable Convertible says he was inspired by McCafferty, The Front Bottoms, and Modern Baseball. There is a resemblance to what I've heard from those bands (which is not a great deal). But "Hawaii" is more accessible, less raw.
"Hawaii" is from the new six-track EP, 2 Cool 4 Me. The EP was "written, arranged, performed, mixed, and mastered by Affordable Convertible." I'm not sure who – or what – Affordable Convertible is. On his Bandcamp page, he says, "I write, arrange, perform, record, mix, and master all this in my bedroom. If it sucks, it's because I'm not very good. I'm just making music to hate myself to. I don't know what I'm doing."
I halfway believe that Affordable Convertible is a ringer. I hear a lot of bedroom recordings, and this EP would go into the upper tier as far as sound quality, mixing, and musical ability. In fact, it's better than some of the studio recordings I've heard. The guy clearly knows what he's doing, despite his assertion to the contrary. Oh well. If this was recorded in his bedroom, then he needs to rent out his bedroom as a studio, and hire himself out as a recording engineer and producer.
Whether actually recorded in a bedroom or not, Affordable Convertible's songs are classic Underwear Music. That is, music guys write and record while sitting in their bedroom in their underwear following a breakup. That isn't a knock; some of our greatest music is Underwear Music. Go listen to Roy Orbison's "Only the Lonely." Roy obviously wrote that while sitting on his bed in his underwear, just him and an acoustic guitar, after his girlfriend dumped him for liking some model's picture on Instagram. Which brings us to our Alternative Song of the Day…
"The Obligatory Silly One" has the best lyric that I've heard in a long time:
There is so much that I need to fix
About myself, but I'd rather just lay in bed
And stare at the ceiling fan, as it uncontrollably wobbles
Fuck, I guess I gotta fix that too.
But it can wait until tomorrow
Been there, done that. That chorus alone makes "The Obligatory Silly One" worth a listen.
You can help support deserving independent musicians like Affordable Convertible by visiting their Bandcamp page, listening to their songs, and downloading your favorite tracks. And be sure to follow Affordable Convertible on Facebook. Go now, and be among the first 14 people to "Like" the page!