Dogs Of Lords – NeverFeel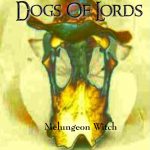 "NeverFeel" by Dogs Of Lords is what you get when you run an electric line from a TVA dam up into an East Tennessee hollow, give somebody a guitar, a government check, and a tab of acid, and let it all fester for fifty years. Originating in the Valley and Ridge physiographic region that formed the last time Africa rammed into us, Dogs Of Lords' music is described as "hard mountain punk." And while there are gentler shades in "NeverFeel," make no mistake: this isn't country music or bluegrass. If you're looking for a steel guitar or a fiddle, keep walking.
"NeverFeel" is one of the more adventurous, and interesting, songs that we have featured. Kicking off with an anthemic riff and call-and-response vocal, the mood shifts at two-minutes-thirty, then again about a minute later. The result is a mini-suite with a Pink Floydian feel. If Syd Barrett lived in a single-wide stuck onto the side of a mountain.
"NeverFeel" is from the twenty-three (!) track album, Melungeon Witch. For those of you keeping score at home, the Melungeons are a loosely-defined group of tri-racial isolates who live in the nether regions of northeast Tennessee and southwest Virginia. Myths and legends of bygone days proclaimed them to be the Lost Tribe of Israel, descendants of the Lost Colony of Roanoke, or even aliens. Tales of Melungeon witches, bogeymen, and baby-snatchers were once in common circulation. Full disclosure: I grew up in Tennessee.
And here we find that all tracks by Dogs Of Lords have disappeared, returning to the hawkins County hollow from which they so mysteriously emerged. Too bad; it's good music.
I don't know anything about Dogs Of Lords, except that they are based in Knoxville and they are very prolific. Melungeon Witch is their third release this month, for a total of 49 tracks released in April. According to their Facebook page, the band was founded in 1736. And that's the most useful thing I found there.
You can help support deserving independent musicians like Dogs Of Lords, whoever they are, by visiting their Bandcamp page, listening to their music, and downloading your favorite tracks. There's a lot to choose from; surely you can find something you like. And be sure to follow them on Facebook!