The Ruby Palms – Cleopatra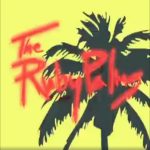 Make sure you have some room to move before you click the play button. Because your feet and/or other body parts will go into motion when you hear "Cleopatra" by The Ruby Palms. The song hits that sweet spot between Surf, New Wave, and the Velvet Underground where the best of all three come together to give us something infectious without being overtly poppy. It has handclaps in the rhythm track, so you know it has to be good.
"Cleopatra" kicks off with bass and drums that send a maybe-not-so-subtle wake-up message to your butt. Then the guitar chimes in with that I-IV progression on the fourth fret that you can jam on for hours. And then we learn that we have a real singer on our hands. When it's over, you will hit the replay button.
"Cleopatra" is from the new three-song EP, It's The Ruby Palms. The band self-describes as a "psych pop outfit based out of Portland, OR." The members are Adam Oliver, Will Hendershott, Taylor Bolding, and Bob Mullen. And… and that's all I know about them. They have one other EP on Bandcamp, a recording of their first ever live performance, which was apparently recorded on a potato. Just kidding. It's a bit rough, but you can hear the talent echoing around in there. Based on the Past Events on their Facebook page, it looks like the band is developing a nice following in Portland. And if you're in town, be sure to catch The Ruby Palms on Saturday, April 21 at No Fun. But plan to have fun.
You can support deserving independent musicians like The Ruby Palms by visiting their Bandcamp page, listening to their music, and downloading your favorite tracks. And be sure to follow the guys on Facebook!