Chazzy Lake – Solar Flare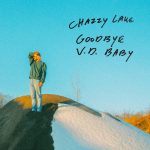 "Solar Flare," by Chazzy Lake, is a chunk of passionate, stripped down rock. This is about as basic as music gets without being one guy and an acoustic guitar. And that's why I like it: you can hear the heat glowing between the notes.
The track kicks off with what could be an 80's-vintage drum machine (I told you it was basic), then launches into a riff that sounds like something we've heard many times before. That's OK; it's a good riff, supplemented by a slow-burn lead guitar. The star of the show is the vocal, which is delivered with a high level of strength and emotion, and respect for dynamics. This guy can sing.
"Solar Flare" is from the five-song EP, Goodbye V.D. Baby. I'll leave it up to you to interpret the title. The whiff of Underwear Music is strong on this one. Underwear Music is music that a guy writes and records sitting on his bed in his underwear following a breakup. Back in the day, before everyone had a recording studio on their phone, you could write this stuff in your underwear but you had to get dressed and leave the house to record it. Now, a guy can write and record these breakup songs, and post them on the Internet, in situ without even pulling on a pair of pants.
Goodbye V.D. Baby was "written, performed and produced by Chazzy Lake," who describes it as "rough cuts from tough times." The songs may be demo quality, but they are well-written and could form the basis for an outstanding future album. Chazzy Lake is/was the lead singer and guitarist for Bison, a Burlington VT trio that identifies its music as "disco punk." Chazzy Lake may or may not be AKA Charlie Hill. Who knows? That's about all I know about it.
You can support deserving independent musicians like Chazzy Lake, whoever he is, by visiting his Bandcamp page, listening to his music, and downloading your favorite tracks. My top two picks were "Solar Flare" and the 60's-pop-infused "Maybe It's Not the Best." This is where I usually say, "And be sure to follow —- on Facebook." I can't find a Facebook page for Chazzy Lake, but feel free to follow Bison.