Mirrors and Lights – Shut It Down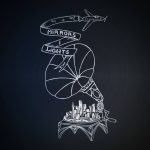 Glance at the lineup of Mirrors and Lights – fronted by an acoustic guitar and a ukulele – and you might think, "Well, this will be a pleasant little folk song." But about ten seconds into "Shut It Down," you find out you were wrong. The band's energy and attitude will have you reaching for the volume knob, or whatever controls the sound level on your device, to turn it up.
The energy in "Shut It Down" derives from the bass-and-drums rhythm section that drives things along with a hot jazziness. The attitude arrives in the delivery of the vocals, alternating solo lines with harmonies that blend as if they were overdubbed by the same person. There isn't an electric guitar solo in the house and you won't miss it.
"Shut It Down" is from Mirrors and Lights' new self-named three-song EP. The band is Lindsay Barnett (vocals and guitar), Marie Davison (vocals and ukelele), Ryan Self (bass and electronics), and Nick Solga (percussion). Based in Denver, Mirrors and Lights self-describes as having "a diverse musical background ranging from blues and rock to Celtic and folk" and "incorporate all these sounds into their original music as well as their unique covers." They are "excited to turn things up a notch with their new demo." I don't know about the "demo" part. "Shut It Down" sounds great to me as it is.
You can help support deserving independent musicians like Mirrors and Lights by visiting their Bandcamp page, listening to their songs, and downloading your favorite tracks. Though I'm sure they won't complain if you download the entire EP. You can hear additional recordings by Mirrors and Lights on their Soundcloud page, and on their YouTube channel. And be sure to follow the band on Facebook. After they hit the Big Time you can say, "I knew them when they only had 52 "Likes" on Facebook…"