The Crystal Furs – In the Mirror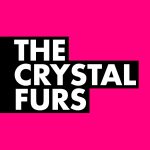 Today's song comes to us from Fort Worth, Texas, which is just up the road from our raccoon den in Houston. Fort Worth is two-thirds of the "DFW" airport code. In your face, Dallas. Fort Worth is also noted for being an incubator of British-Invasion-With-A-Texas-Twist bands, as documented in the 2011 film, Teen A-Go-Go. The Crystal Furs continue that long strange trip with "In the Mirror," a song featuring a Farfisa Mini-Compact organ that for all we know was used by Sam the Sham on "Wooly Bully."
"In the Mirror" is deceptive. With jangly guitars and a catchy organ hook, one can enjoy the song as danceable retro rock. But the track's dark side is revealed in the lyrics. This isn't a happy-go-lucky paean to your local malt shop, and it isn't the sci-fi acid trip of the early B-52's.
Where you see our failures
I see opportunities
You see your successes
I see through your insecurities
All the little cuts that just eat away
Until the real you sees the light of day
In the mirror
Just look in the mirror
There's something deep going on behind the light, delivered-with-a-smile vocal. Are we talking about a relationship, a co-worker, Donald Trump? The organ is for your feet, the words are for your head. Though I have to say that the hook and melody are firmly stuck in my head.
The Crystal Furs are Steph Buchanan (guitar, bass, vocals), Kevin Buchanan (Farfisa organ, vocals), and Tanner Brown (drums, percussion).  On their Bandcamp page, they describe themselves as "an indiepop band from Texas, making melodic guitar & organ pop tunes." And on The Crystal Furs website, we learn that "our musical inspiration comes from a variety of sources – the jangly indie pop sounds of '90s bands like Heavenly and Velocity Girl, the indie pop and rock of the Pacific Northwest, the psych-pop of the Elephant 6 Collective, and the innovative multi-layered music of Brian Wilson." An album is planned for release later this year.
I first became aware of Steph Buchanan when she followed me on Twitter. I couldn't figure out why someone so talented would follow a reclusive blogger who sometimes lets his cats write it for him. Maybe she was following my cats. Both Steph and Kevin were previously members of The Diabolical Machines.
You can help support deserving independent musicians like The Crystal Furs by visiting their Bandcamp page, listening to their music, and downloading your favorite tracks. Be sure to visit The Crystal Furs website. And follow them on Facebook, Twitter, and Instagram.
Bonus Track: "Drag You Away," by The Diabolical Machines way back in 2013, featuring Steph on vocals and Kevin on keyboards.